EnduroCross Changes Qualifying Format For Upcoming Season
Chaparral Motorsports
|
March 19, 2013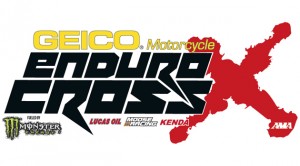 EnduroCross has been one of the most exciting motorsports series in the U.S. since its introduction in 2004, but the league will be undergoing some changes for the upcoming season.

Previously, the series featured a hot lap competition, where riders would hit the track one by one before the start of the race to determine gates for the following heat races. However, most of this action took place well before arenas opened to the public, and fans weren't able to see the riders compete against the clock for an edge in the main event.

Thanks to the recent alterations to the qualification process, that's all going to change. From now on, the 13 riders who make it to the main event will have to run through a second hot lap to finalize their gates.

"The hot laps have always been an exciting battle to see who can put in the best single lap against the clock, but unfortunately only a few spectators have been there to see it," said Mike Karsting, vice president of events for Source Interlink, a partner with the series. "So we are really excited about adding the second hot laps to the formal, as a full arena will only add to the excitement ..."