2013 AMA Supercross Indianapolis Results
Chaparral Motorsports
|
March 18, 2013
Ryan Villopoto Adds Another Win In Indianapolis
[caption id="attachment_24439" align="alignright" width="300"]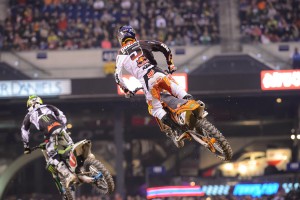 Ryan Dungey valiantly chased down Ryan Villopoto, but ultimately had to settle for second - Photo: Simon Cudby[/caption]

Ryan Villopoto made it four wins in a row after his most recent performance at Lucas Oil Stadium in Indianapolis, Indiana. The Kawasaki rider didn't start out as strongly as he had in the past few races, trailing Davi Millsaps and James Stewart during the first lap, but he waited for his moment and passed both riders on the sixth lap to claim his sixth overall victory of the season.

He was eventually challenged by Ryan Dungey, who moved into second place after passing Millsaps in the middle laps. But Villopoto ultimately held on to the lead. Dungey sped along to second place, while Stewart capitalized on Millsaps' crash in the final lap to grab the final podium spot.

"Lucas Oil Stadium has been great to me - it's an amazing stadium and I love coming here," Villopoto said. "Ryan [Dungey] was able to make up some time on me here and there, but I just kept pushing hard until the end."

The victory padded Villopoto's lead in the points standings, bringing him up to nine ahead of Millsaps. Dungey also improved his total and now sits just eight points out of second place.

Ryan Dungey Finishes Second At Indianapolis Supercross
[caption id="attachment_24450" align="alignright" width="300"]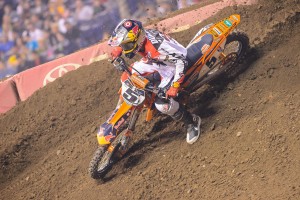 Ryan Dungey finished second overall at the eleventh round of the Monster Energy 450SX Supercross Series - Photo: Simon Cudby[/caption]

Red Bull KTM Factory rider Ryan Dungey finished second overall at the eleventh round of the Monster Energy 450SX Supercross Series, an FIM World Championship held at Lucas Oil Stadium.

Dungey was placed in the first heat race of the night where he got a great jump out of the gate and came into the first corner in third position. Unfortunately, he got pinched off in the second corner and dropped to seventh place. The next three laps he battled with the five riders ahead of him to get toward the front of the pack. He swapped positions with Justin Barcia multiple times before making an inside pass stick on the fifth lap to take over fifth place. In that same lap, he was able to reel in Justin Sipes and pick off another spot. In the final lap of the race he caught and passed Mike Alessi to finish third in his heat.

Dungey had a decent jump off the line in the main event and rounded the first corner in fifth position. He moved into fourth by the end of the second lap and began to reel in the top three riders. On the seventh lap of the race, the lead ride of James Stewart stalled in a corner allowing Ryan Villopoto to take the lead and Dungey to move into second position. In the remaining laps, Dungey trailed Villopoto trying multiple maneuvers to make a pass stick. At the end of twenty laps, Dungey remained on the rear end of Villopoto but was unable to make the pass and held on to finish second for a podium finish.

On the podium, Dungey stated, "We made some adjustments in the afternoon practice sessions to get everything dialed in for the night show. The track was both slippery and tacky in spots and it made it a little tricky to determine the best bike set-up. In the end, I was able to pressure Ryan (Villopoto) throughout the race but couldn't make the pass stick. I am happy with second tonight and am looking forward to Toronto."

Source: KTM North America

James Stewart And Suzuki Podium At Indy SX
[caption id="attachment_24447" align="alignright" width="300"]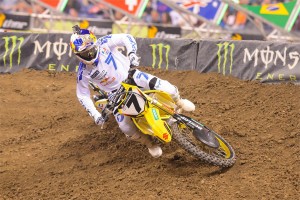 James Stewart celebrated a podium finish at the 11th round of the 2013 AMA/ FIM World Supercross Championship.[/caption]

Yoshimura Suzuki Factory Racing's James Stewart celebrated a podium finish at the 11th round of the 2013 AMA/ FIM World Supercross Championship at Lucas Oil Stadium in Indianapolis on Saturday night.

Stewart once again set the fastest qualifying time in practice and his overwhelming speed on the Yoshimura Suzuki RM-Z450 continued in his heat race, where he got a great start and led all eight laps to his seventh heat race win of the year. In the 20-lap Main Event, he got a great start and took over the lead within seconds and led the first seven laps before making a mistake and briefly stalling the bike. Undaunted, Stewart rejoined the fray in fifth and worked his way up to a podium finish.

"I almost stalled it in that same place twice," said Stewart afterwards. "But I just stalled it. I don't know if I hit the brakes; I don't know what happened. But it's definitely a bummer because races like that, they're fun to be in. I was on it from lap one and I felt good. I was pulling away but that happened and I just had to regroup and come back. The Yoshimura Suzuki RM-Z450 worked great in my heat race and even better in the Main Event. That was just a stupid move, bogus; that's what you do when you first get on a motorcycle is stall it! But we'll regroup and come back strong for Toronto."

Yoshimura Suzuki Factory Racing's next event is the 12th round of the 2013 AMA/ FIM World Supercross Championship on Saturday March 23rd at the Rogers Centre in Toronto, Ontario in Canada.

Source: Team Suzuki

Broc Tickle 11th At Indy SX With A Broken Finger
[caption id="attachment_24444" align="alignright" width="200"]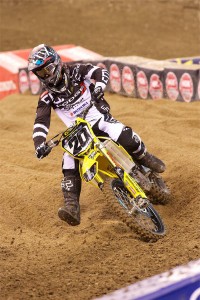 Broc Tickle's finish keeps the first-year RCH rider 10th in rider points, three shy of ninth-place.[/caption]

RCH Racing Suzuki's Broc Tickle battled through the pain barrier to finish 11th in Saturday's Indianapolis Supercross at Lucas Oil Stadium with a broken finger.

The Dodge/ Sycuan Casino/ RCH Racing/ Bel-Ray/ Suzuki Z450 rider maintained his 100% record by qualifying for his 11th consecutive 450cc class Main Event, but got caught-up in a first turn incident that that broke his 'pinky' and put him at the back of the field.

Tickle and team mate Josh Hill - now getting back on the pace and recording his best finish after returning from injury at the opening round at Anaheim - both had poor gate selections for the 20-lap Main, making the race start even more critical. When the gate dropped, the charge to Turn 1 ended in a multi-rider mishap which collected Tickle, although Hill managed to avoid the incident.

Tickle's ride turned out to be impressive considering the Michigan native gave up 17 spots to the leaders on the opening lap. But he methodically carved through the field, working his way to 11th at the flag.

Said Tickle: "I had a good jump in the Main Event and tried to stick the Suzuki in there, but got hit and crashed in the first corner. From there, it was like starting last. I had to fight my way all the way back through the field. I felt like I rode pretty well tonight. I liked the track and I had a lot of confidence all day."

Tickle's finish keeps the first-year RCH rider 10th in rider points, three shy of ninth-place.

"I'm pretty pumped," said Hill of his season-best finish. "I had a great start and thought that I had a holeshot when the gate dropped. I went for it; I went for broke. I tried to cut-off the top side or go down trying. I'm tired of riding around 16th and just pinned it going into Turn 1."

The AMA/ FIM World Supercross series now heads north of the border next weekend for Round 12 at the Rogers Centre in Toronto, Ontario in Canada.

Source: Team Suzuki

Rockstar Energy Racing Indianapolis Supercross Race Report
[caption id="attachment_24445" align="alignright" width="300"]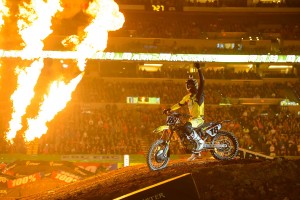 Davi Millsaps' main event began nearly as good as can be with a holeshot, although he eventually had to settle for 4th overall.[/caption]

It was an evening with more ups, more downs and more controversy for the Rockstar Energy Racing squad in Indianapolis, Indiana. What seemed to be shaping up as a stellar Supercross night went sour at the end of each main event. It's funny how perspectives change. There were a lot of positives to take away from this weekend's performances, although the results were hard to swallow emotionally. The good news is that the team definitely has something to build on going into Toronto next week.

Davi Millsaps looked great all day. Starting with the final 450 qualifying practice where he posted the 2nd fastest lap time, only a couple of hundredths out of 1st, and nearly a full second ahead of 3rd. He then celebrated a successful heat race finishing in a respectable 2nd place. Millsaps' main event began nearly as good as can be with a holeshot, although he was overcome quickly by James Stewart as the pack exited the first turn. He stayed right on the leader, challenging him for position for several laps.

Unfortunately Ryan Villopoto was right on Davi's rear tire as well so he was also forced to protect his lines. Perhaps if he got into the lead sooner the night would have ended different, but he was relegated to 3rd. On the 20th and final lap Millsaps went down in the corner entering the start straight. He remounted quickly and was able to cross the finish line in 4th.

That's where the perspective has changed. A 4th place at Anaheim 1 would have been celebrated. Expectations have been raised without a doubt. Davi's Indy ride was still a good one however and his knee is improving every week. He should have been on the podium, but that's racing. There is a very good chance he will return to finish in the top 3 next week.

"Well... Bad night but it could have been worse. I need to keep riding more. Its been a couple weeks since I've been able to ride a lot due to my knee. I'll shake that rust off. This is a better race than I've had the last two weeks. So I need to work on that and keep pushing forward." - Davi Millsaps

[caption id="attachment_24443" align="alignleft" width="300"]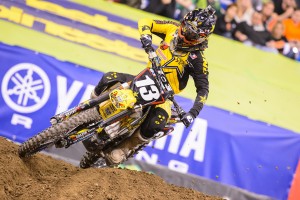 Blake Wharton almost won the race, but after recovering from a crash he finished 5th and was docked another 4 places due to a controversial decision.[/caption]

Although Blake Wharton's practice did not begin as positively as Davi's, his momentum picked up as the day progressed. Blake went down hard in a very high speed crash as he collided with Vince Friese at the end of the track's longest straightaway. He was down for quite some time and had to go back to the truck, do some stretching, focus mentally, and regroup. He did just that with an impressive heat race win in front of a stadium that looked to not have one empty seat.

Just like Millsaps in the 450 main, Wharton nabbed the holeshot. He did not look back and stretched out a substantial lead for 14 and a half laps. Then, when he seemingly had his 2nd consecutive victory in Lucas Oil Stadium all locked up, he went down in the whoops with just a half of a lap remaining. By the time he he got back on his bike, he went on to finish 5th. Then following the race is when the controversial salt was thrown into Blake's wounds.

An official protest was filed against him by another team over where he reentered the track. It came down to another opinion based decision. Some would say that due to the safety of other riders and Blake himself, given his position on the track with no access to cut across lanes, that he made the right decision. That however was not the ruling that was made. Wharton was docked 4 positions to 9th. There is no going back in time and the past cannot be changed. He showed he can win a Supercross and must move on taking the positives with him next Saturday.

"Rough day with the practice crash. I knew I needed a good start in the main. Got the holeshot and was riding solid until my mishap. I have the speed, I just need to put every lap down." - Blake Wharton

Next weekend marks round 12 and the only international stop of the 2013 Supercross Series in Toronto, Ontario Canada. Millsaps will strive to cut into the 9 point deficit he currently faces. Wharton will try to put in 15 solid laps en route to his first victory of the year.

Source: Rockstar Energy Racing

Marvin Musquin Makes It Two In A Row
[caption id="attachment_24441" align="alignright" width="300"]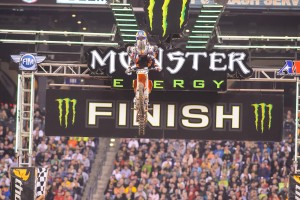 Marvin Musquin took his second straight win with a celebratory heel-clicker - Photo: Simon Cudby[/caption]

Red Bull KTM Factory rider Marvin Musquin earned his second straight win in a row in the 250SX class in front of 50,000 people at the Monster Energy Supercross at Lucas Oil Stadium.

Musquin was placed in the first heat of the night where he earned a second place start out of the gate. Musquin quickly made the pass for the lead in the first rhythm section. He led the remainder of the race to claim his first heat win of the season taking the top qualifying spot for the main event.

When the gate dropped for the main event, Musquin had an okay jump out of the gate but got stuck behind two tuff blocks that were pushed into the first corner after a few riders went down. He rounded the next corner in dead last.

In a miraculous ride to the front of the pack Musquin quickly set to work picking off riders. Four laps into the race he had climbed into the top ten. Three laps later he was trailing the fifth place ride of Vince Friese. In the remaining laps he reeled in each of the top five riders to eventually pass the second place ride of Kyle Peters on the final lap. It was on that same lap that the lead rider, Blake Wharton, suffered a crash in a rhythm section allowing Musquin to move into the lead. A few corners later and Musquin took his second straight win with a celebratory heel-clicker.

"I was really looking for a win tonight and when I got stuck behind the tuff blocks in the first corner I was so mad and it just made me fight harder," commented Musquin. "I passed Wil Hahn early on and that made me happy as I need to earn as many points as I can on him. I fought really hard and was able to pass a lot of riders. I was able to capitalize on the crash of Blake to get the win. It is a lucky win but this is fantastic to get two in a row."

Next Event: Toronto Supercross - March 23, 2013

Source: KTM North America

Indianapolis Overview And Point Standings
Video: James Stewart Podiums At Indy Supercross
Yoshimura Suzuki's James Stewart was back on form in Saturday night's Indianapolis Supercross with third place overall in the 450cc Main Event aboard his RM-Z450.

The Yoshimura Suzuki rider took the lead on the opening lap from holeshot winner Davi Millsaps (Rockstar Energy Suzuki) and held it for seven laps until he stalled in a slow left-hand rut and lost four places. But he re-started and soon got back on the pace to race back into a podium position.

Source: Team Suzuki

Video: Blake Wharton Crashes From Indy SX Win
Rockstar Energy Racing Suzuki's Blake Wharton crashed out of Saturday's Indianapolis Supercross Lites Main Event on the final lap while holding a commanding lead.

Wharton got the holeshot and led every lap, opening-up a four-second lead, but saw his hopes of a third career victory disappear when he crashed off the track and got stuck on the tuff blocks.

Source: Team Suzuki

2013 AMA Supercross Indianapolis Image Gallery (Click for full size images)
Overall Results - Supercross Class: 20 Laps
| Pos. | # | Rider | Bike | Interval | Best Time |
| --- | --- | --- | --- | --- | --- |
| 1 | 1 | Ryan Villopoto | Kawasaki KX 450F | 17:20.920 | 50.902 |
| 2 | 5 | Ryan Dungey | KTM 450 SX-F Factory Edition | +06.537 | 50.991 |
| 3 | 7 | James Stewart | Suzuki RM-Z450 | +21.407 | 51.242 |
| 4 | 18 | Davi Millsaps | Suzuki RM-Z450 | +26.392 | 51.293 |
| 5 | 51 | Justin Barcia | Honda CRF 450 | +31.414 | 52.165 |
| 6 | 22 | Chad Reed | Honda CRF 450 | +37.355 | 51.552 |
| 7 | 29 | Andrew Short | KTM 450 SX-F | +43.866 | 52.086 |
| 8 | 62 | Matthew Goerke | KTM 450 SX-F | +45.844 | 52.356 |
| 9 | 17 | Eli Tomac | Honda CRF 450 | +47.630 | 52.139 |
| 10 | 46 | Weston Peick | Suzuki RM-Z450 | +57.646 | 53.810 |
| 11 | 20 | Broc Tickle | Suzuki RM-Z450 | 19 Laps | 52.877 |
| 12 | 75 | Joshua Hill | Suzuki RM-Z450 | +13.738 | 53.371 |
| 13 | 10 | Justin Brayton | Yamaha YZ450F | +25.117 | 53.979 |
| 14 | 49 | Phillip Nicoletti | Yamaha YZ450F | 18 Laps | 54.673 |
| 15 | 85 | Kyle Partridge | Honda CRF 450 | +15.280 | 54.857 |
| 16 | 64 | Justin Sipes | Kawasaki KX 450F | +26.140 | 54.789 |
| 17 | 800 | Mike Alessi | Suzuki RM-Z450 | +43.620 | 54.735 |
| 18 | 39 | Bobby Kiniry | Yamaha YZ450F | 6 Laps | 55.437 |
| 19 | 41 | Trey Canard | Honda CRF 450 | 2 Laps | 54.180 |
| 20 | 12 | Jake Weimer | Kawasaki KX 450F | +1:29.803 | 57.856 |
Point Standings - Supercross Class ( Race 11 of 17 )


Ryan Villopoto - 227

Davi Millsaps - 218

Ryan Dungey - 210

Chad Reed - 178

Justin Barcia - 168

Trey Canard - 165

James Stewart - 155

Andrew Short - 136

Justin Brayton - 112

Broc Tickle - 109

Matthew Goerke - 108

Mike Alessi - 83

Jake Weimer - 79

Weston Peick -

Eli Tomac - 52

Joshua Grant - 40

Jimmy Albertson - 38

Kyle Chisholm - 38

Matthew Lemoine - 34

Bobby Kiniry - 31

Overall Results - Supercross Lites East Class: 15 Laps
| Pos. | # | Rider | Bike | Interval | Best Time |
| --- | --- | --- | --- | --- | --- |
| 1 | 25 | Marvin Musquin | KTM 250 SX-F | 13:35.323 | 52.509 |
| 2 | 50 | Kyle Peters | Honda CRF 250 | +02.510 | 53.886 |
| 3 | 19 | Wil Hahn | Honda CRF 250 | +05.960 | 53.366 |
| 4 | 73 | A J Catanzaro | Kawasaki KX 250F | +09.858 | 53.626 |
| 5 | 317 | Justin Hill | Kawasaki KX 250F | +15.585 | 54.187 |
| 6 | 42 | Vince Friese | Honda CRF 250 | +20.960 | 54.753 |
| 7 | 248 | Mitchell Oldenburg | Honda CRF 250 | +25.517 | 54.813 |
| 8 | 67 | Gavin Faith | Honda CRF 250 | +26.901 | 54.016 |
| 9 | 13 | Blake Wharton | Suzuki RM-Z250 | +26.901 | 53.201 |
| 10 | 69 | Peter Larsen | Yamaha YZ250 | +34.147 | 55.015 |
| 11 | 552 | Steven Clarke | KTM 250 SX-F | +39.535 | 56.077 |
| 12 | 613 | James Decotis | Honda CRF 250 | +41.962 | 55.223 |
| 13 | 167 | Zachary Bell | Honda CRF 250 | +44.924 | 54.589 |
| 14 | 71 | Zackery Freeberg | Honda CRF 250 | +49.956 | 55.199 |
| 15 | 412 | Levi Kilbarger | Honda CRF 250 | +51.688 | 55.821 |
| 16 | 48 | Cole Thompson | Honda CRF 250 | +56.307 | 54.754 |
| 17 | 393 | Daniel Herrlein | Honda CRF 250 | +58.594 | 55.598 |
| 18 | 194 | Jackson Richardson | Honda CRF 250 | 14 Laps | 54.656 |
| 19 | 87 | Lance Vincent | KTM 250 SX-F | 7 Laps | 54.865 |
| 20 | 77 | Jeremy Martin | Yamaha YZ250F | +02.766 | 53.770 |
Point Standings - Supercross Lites East Class ( Race 5 of 9 )


Wil Hahn - 112

Marvin Musquin - 103

Blake Wharton - 88

Dean Wilson - 87

Kyle Peters - 67

Justin Hill - 67

Vince Friese - 65

Jeremy Martin - 53

Gavin Faith - 53

James Decotis - 52

Mitchell Oldenburg - 49

Cole Thompson - 42

Zachary Bell - 37

A J Catanzaro - 36

Peter Larsen - 30

Lance Vincent - 30

Zackery Freeberg - 29

Levi Kilbarger - 17

Steven Clarke - 16

Jackson Richardson - 14