Motorcycle Maniac: 2014 Yamaha Star Bolt
Chaparral Motorsports
|
March 17, 2013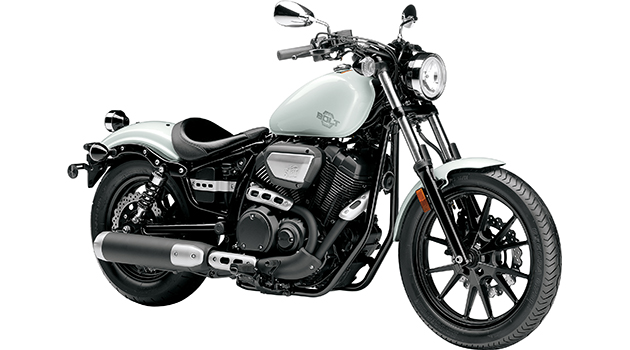 2014 Yamaha Star Bolt: A New Kind Of Cruiser
Daytona Bike Week started off with a bang last weekend, and Yamaha took full advantage of the attention to reveal its newest bike: the 2014 Star Bolt motorcycle. The manufacturer grabbed the headlines right away thanks to the motorcycle's low price tag - a standard will retail for less than $8,000 - but riders were also caught by its retro feel and classic exterior. The Bolt is targeted at a younger kind of motorcycle rider. There's plenty of room to customize the bike to fit your own style, making it ideal for people who are searching for the right motorcycle to start their cruising career.

V-Twin Engine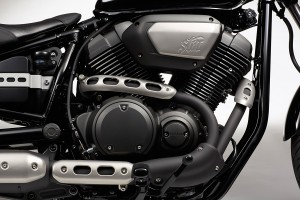 The star of the 2014 Bolt is the engine, which is a 60-degree, air-cooled, V-twin machine with a 942cc displacement. It's a similar engine to the one used in Yamaha's V Star 950, so if the specifications hold true, the horsepower should be somewhere in the mid-40s. This moderate motor powers the Bolt's chassis, which is comprised of a double cradle steel frame with a low seat that only rests 27.2 inches off the ground.

Other Specs
The engine is complemented by a five-speed transmission, which is more than enough to power the light machine. It only weighs about 540 pounds with a full tank, so even beginners should have no problem handling the bike along their chosen route. Although the bike boasts only a 3.2-gallon tank, Yamaha claims that it can reach up to 50 miles per gallon, which should be reassuring to riders who want to take advantage of the classic cruiser and hit the open road.

Making The Most Of A Debut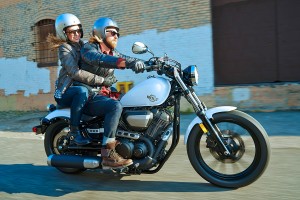 The rumor is Yamaha intends for Star motorcycles to be a competitor for Harley-Davidson, and that comes through once you started riding around on the Bolt. With a throwback style more reminiscent of choppers from the 1940s or 1950s than new models today, the bike capitalizes on a simple, low design that puts the emphasis on the rider instead of extra gear.

Final Thoughts
Aesthetics are one of the main draws of the 2014 Star Bolt. Its unique design is unlike most other cruisers on the market, with very few chrome parts - although that can be customized if you choose - as well as small instrument dials and a solo saddle. Even the colors reflect this level of minimalism, as the bike is only available in black or white. An upgraded Bolt R-Spec model will be available in gray or camouflage green and boasts a more comfortable seat and some additional features, with only a moderately higher price tag.

2014 Yamaha Star Bolt and Bolt R-Spec Image Gallery
(Click for full size images)