Weekend Warrior: 2013 Yamaha Grizzly 700 Special Edition
Chaparral Motorsports
|
March 16, 2013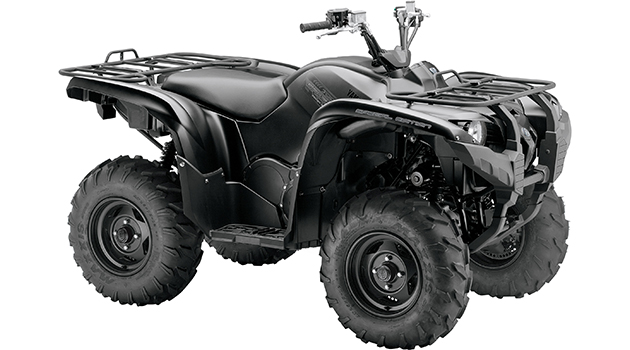 2013 Yamaha Grizzly 700 SE:
Perfect For Passing On The Family Tradition
Like any dad, I'm always looking for ways to share experiences and interests with my kids. This extends to my love of ATVs and motorsports, but I have to keep an eye out for youth-friendly machines that will encourage their interest in the world of off-roading without pushing them too hard.

The Yamaha Grizzly line has been around for quite some time and is one of the most trusted names in ATVs. Its latest ride, the 2013 Yamaha Grizzly 700 FI Auto. 4x4 EPS Special Edition, was generating some positive buzz and piqued my interest. I decided to give the machine a shot to see if it's right for my family, and I'm glad I did, because I could definitely see investing in this ATV in the future.

Engine, Transmission And Chassis
The 2013 Grizzly model has the coveted title of the most powerful Grizzly ever, with a 686cc liquid-cooled, four-stroke engine. As if that's not enough, the machine also boasts an Ultramatic transmission that is among the most advanced systems offered in modern-day ATVs, and it has an easy method of switching between two- and four-wheel drive.

Other Features And Specs
Weighing in at 648 pounds, the machine is sturdy, but the aluminum wheels and speed-sensitive EPS system limit the effort needed to steer the ATV in any environment - perfect for young children who may not have as much experience or strength behind the wheel. It features the best power-to-weight ratio of any Yamaha product, so if you're looking at this line of machines, that may be something to consider. A 9.2:1 compression ratio also means that the Grizzly can run on lower grades of gas, and while I would recommend using a premium quality fuel for the best performance, the ability to cut down on the cost of gas when training youths on the machine is a plus.

The perfect youth machine
With plenty of power and safety features, the Yamaha Grizzly 700 SE is ideal for kids who are still newcomers to the world of motorsports. They'll certainly like the way it looks, as the "tactical black" paint jobs looks rugged and a little military-esque. Parents will appreciate that it's very low-maintenance and has a small turning radius, so it can be easily stored for weekend riding or used as a training machine. It can handle any kind of terrain, which is great if you're not sure what type of adventures or off-roading your kids will be into or if you want to use it for a variety of riding.

2013 Yamaha Grizzly 700 Special Edition Image Gallery
(Click for full size images)