The Dirt Bike Guy: 2013 Yamaha WR450F
Chaparral Motorsports
|
March 15, 2013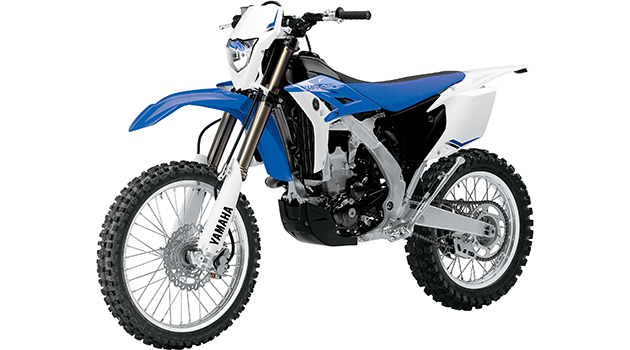 2013 Yamaha WR450F: Handles Any Off-Road Trail
If you enjoy off-road riding and you're looking for a new dirt bike, you might want to check out the 2013 Yamaha WR450F. This motorcycle was bred to get dirty - based on a race model, the WR450F offers plenty of power, excellent performance and impressive handling. You will be able to tackle nearly any trail, thanks to the redesigned chassis, advanced engine and suspension among other top shelf features.

Race-Worthy Inspiration
Yamaha took much of the design for the WR450F from the YZ250, adapting the aluminum frame from the racing model and including other parts. This gives the bike more strength while also reducing its overall weight, so it is more nimble, allowing you to make sharper turns and have better control. Yamaha also adapted the shocks from the YZ for the off-road bike. The WR450F features a YZ-based, adjustable 48 millimeter Speed Sensitive fork system with 11.6 inches of travel and KYB piggyback shock - similar to the gear found on the racing motorcycle. You'll also find a clutch taken from the YZ450F model, which caters to riders of all styles, whether you prefer to leave your fellow riders in your dust or you're more of a casual rider.

Technical Specs
The Yamaha WR450F features a 449cc liquid-cooled four-stroke engine that is equipped with titanium valves. Not only does this motor deliver a broad range of power in low and high RPMs, but it also offers quick and accurate throttle response thanks to the fuel injection system. Plus, the five-speed transmission, coupled with the YZ clutch mentioned earlier, helps you get every ounce of top-end power.

Additional Features
The bike not only offers impressive performance, but it looks modern and stylish. The YZ-inspired frame gives the off-road motorcycle a sporty edge. Its aluminum body and parts also make it ideal for all sorts of weather conditions whether you prefer to ride in the sand, dirt or mud. Plus, you can ride day or night, thanks to a 35-watt headlight and an LED taillight that are both lightweight and take little to power. You can track all sorts of data thanks to the enduro computer, which displays a speedometer, tripmeter and clock in basic mode, and can also be switch to race mode to provide pace management functions such as a timer, average speed, distance-compensating tripmeter and more.

2013 Yamaha WR450F Image Gallery
(Click for full size images)