Kriega Overlander Luggage Helps Riders Find Adventure
Chaparral Motorsports
|
March 13, 2013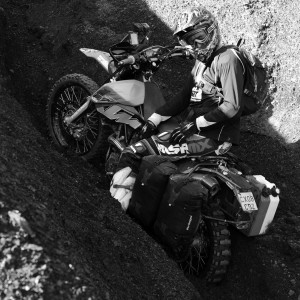 Riders who love adventure can find a whole lot more of it with the help of Kriega's new Overlander 60, a soft-sided motorcycle luggage kit made for motorcyclists who ride in any conditions.

Perfect for off-roading, the motorcycle gear is designed to match the security and capacity of hard luggage with the lightweight advantages of soft bags. There are four individuals 15-liter packs, all of which are waterproof and dustproof, that can attach to almost any dual-sport or off-road bike, regardless of weight or style. The luggage can also be configured so it doesn't interfere with mufflers or any other part of the bike.

At the heart of Kriega's new system is the platform, which is constructed from a thermoplastic that the company claims is virtually indestructible and resistant to any twisting that may be caused by riding over rough terrain or crashing. In the event something does happen, the luggage can be deployed using a quick-release system that will easily get a rider's possessions off a bike.

These motorcycle accessories have been designed to provide the ultimate security for riders, as a tough outer material won't be harmed by errant rocks or other debris often found on trails. All of these elements make the new Kriega Overlander 60 ideal for motorcyclists who need strong gear to match their unpredictable adventures.