AMA Pro National Guard SuperBike Gears Up For Daytona 200 Week
Chaparral Motorsports
|
March 12, 2013
[caption id="attachment_24281" align="alignnone" width="630"]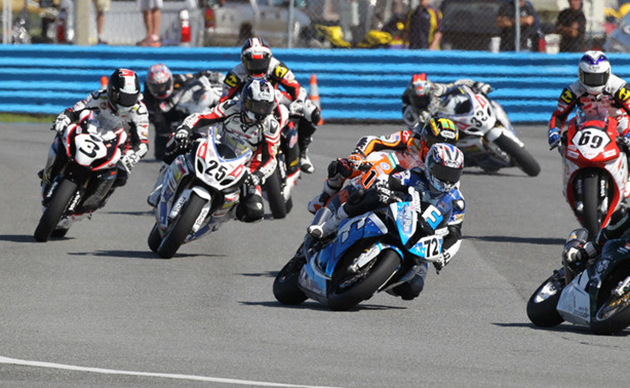 AMA Pro National Guard SuperBike Gears Up for Daytona 200 Week - Photo: Brian J. Nelson[/caption]

With the 2013 GEICO Motorcycle AMA Pro Road Racing season set to commence this week at the legendary Daytona International Speedway, there is one pressing question in the premier AMA Pro National Guard SuperBike class: Can anyone stop reigning champ Josh Hayes?

That question is unlikely to be fully answered at the season opener, but a number of potential challengers to the throne will have a prime opportunity to demonstrate that they are up to that difficult task this season on the famed high banks.

Despite Hayes' overwhelming dominance during the '12 season, the unique characteristics of the Speedway could provide for some less predictable racing. Even small off-season gains can become large ones on track when the draft is introduced and speeds approach and even exceed 200mph. As a result, an advantage measured by tenths of a second per lap in qualifying can vanish with the difference at the checkered flag measured by a photo. Defending king Hayes knows this as well as anyone, having been beaten to the stripe by margins of .052, .072, and .002 seconds in three of his last four starts at Daytona despite having earned the pole position for all of those contests.

The field has been reshuffled during the off-season; a number of contending teams and riders have shaken things up in hopes of unlocking the secret to beating #1. Meanwhile, others have made smaller tweaks, bolstering their programs in an effort to present an even more formidable challenge in 2013.

Defeating Hayes won't prove easy, however. The Monster Energy Graves Yamaha star is not only coming off his third consecutive AMA Pro National Guard SuperBike title-winning season, he's fresh off the most statistically impressive season in the series' 37-year history. In 2012, Hayes notched up seven perfect weekends (pole, led the most laps in both races, and won both races), while establishing new single-season records for most wins in a season (16), most wins in a row (10), and equaled the mark for most poles (10).

That historic campaign also catapulted him into the ranks of the all-time record books, where he now stands second all-time to seven-time champ Mat Mladin in race wins (33) and titles (three -- tied with the likes of Red Pridmore, Fred Merkel, Doug Chandler, and Ben Spies).

Hayes, who is entering just his fifth season as a factory SuperBike hero, is now a heavy favorite to do what no rider, including Mladin, has ever done before: win a fourth consecutive AMA Pro SuperBike championship.

Arguably three of the biggest thorns in Hayes' side during his three-year title run -- Blake Young, Tommy Hayden, and Ben Bostrom -- are no longer in the field. But perhaps their absence will present additional opportunities for others to step forward and provide Hayes with a renewed test in 2013.

National Guard Jordan Suzuki's Roger Hayden showed flashes that he can do just that last season. The Kentuckian took another step forward following his breakthrough '11 effort and showed the talent, speed, and mettle to harry Hayes at Mid-Ohio and then emerged victorious from pole in Miami to claim his first premier-class win. The logical next step in Hayden's continued development in 2013 would be to perform at that level on a more consistent basis.

Another rider Hayes needs to keep an eye on is his Monster Energy Graves Yamaha teammate, Josh Herrin. Herrin impressed as a rookie last season with 10 podium finishes to his credit. Herrin is back on equally-matched machinery in 2013, but he is no longer a rookie. Most top-flight talents are expected to take a huge step forward in competitiveness during their sophomore campaigns with the all-important learning year out of the way. A Ben Spies-like jump forward may be unfair to expect, but a first-career SuperBike win in 2013 is not. With his identical works YZF-R1, Herrin could prove a legitimate contender for victory as early as the weekend at the draft-friendly confines of Daytona International Speedway.

While Young, Hayes' biggest rival in recent seasons, is no longer with Yoshimura Suzuki Factory Racing, the paddock powerhouse is gunning for a return to their glory days prior to Hayes' ascension with the signing of two-time AMA Pro Daytona SportBike king Martin Cardenas. The Colombian was a revelation during his maiden SuperBike campaign in 2011, scooping up a rare rookie win, and once again dominated the SportBike class in his return in 2012. Now Cardenas eyes even greater success in the premier class and brings his world-class skills to the table, backed by the most storied and successful team in series' history.

Team Hero's Geoff May was the pleasant surprise of the season last year on the emerging EBR 1190RS. With a podium finish and a fifth-overall ranking in '12, no one will be shocked to see the Georgian running up front in 2013. May will be joined by a new stable mate this season, as former SuperBike championship runner-up and multi-time race winner Aaron Yates makes a welcome full-time return to the series on the Team AMSOIL/Hero EBR.

May's former teammate, Danny Eslick, meanwhile, could prove to be a title threat himself. Eslick parlayed a similarly impressive season, which included a pair of podium results, into a seat on the #23 Jordan Suzuki. The Oklahoman last rode a Suzuki in 2011 when he claimed his second AMA Pro Daytona SportBike crown and his crowd-pleasing style might just be a perfect match for the Jordan GSX-R1000.

Multi-time class race winner Larry Pegram is yet another front runner sporting new equipment in 2013. Pegram Racing will field Yamaha YZF-R1s this season as the Ohio-native looks to fight fire with fire.

Despite an injury-plagued season, the all-effort riding of KTM/HMC Racing's Chris Fillmore did not go unnoticed by fans and his fellow competitors in 2013. The squad will look to take the next step forward in the development of its improving RC8R racebike this season, which would also benefit Taylor Knapp, who has finally earned his big break with a factory team.

There is no shortage of potential dark horse contenders in the field. Among them include Chris Ulrich, who will pilot an M4 Broaster Chicken Racing Honda CBR1000RR this season, Cardenas' teammate, Chris Clark will certainly be a legitimate threat to make some noise in 2013. Cory West and Dustin Dominguez on the Team RSRacecraft EBR 1190RSs, and Venezuelan Robertino Pietri, aboard the Team Moto Venezuela PC 4x4 Kawasaki ZX-10R.

Qualifying for National Guard SuperBike grid positions will take place in two sessions, Thursday afternoon at 2:45 p.m. and Friday morning at 10:35 a.m. The first 15-lap round of the weekend's National Guard SuperBike doubleheader will close out Friday's on-track activity at 4:00 p.m. local time, followed by National Guard SuperBike Race 2 on Saturday morning at 11:00 a.m. local time.

Live Timing & Scoring of all on-track sessions will be available at http://live.amaproracing.com/rr/. Between the races, stay connected with AMA Pro Road Racing at www.twitter.com/AMAProSBK and www.facebook.com/AMAProRoadRacing; keep up with Daytona International Speedway via Twitter (www.twitter.com/DISupdates) and Facebook (www.facebook.com/DaytonaInternationalSpeedway).

For tickets and additional event information, visit www.daytonainternationalspeedway.com or call 1-800-PITSHOP. For information related to AMA Pro Road Racing, please visit www.amaproracing.com.

About AMA Pro Racing
AMA Pro Racing is the premier professional motorcycle racing organization in North America, operating a full schedule of events and championships for a variety of motorcycle disciplines. Learn more about AMA Pro Racing at www.amaproracing.com.
Source: AMA Pro Racing