Weekend Warrior: 2013 Polaris Ranger RZR XP 900 H.O. Jagged X Edition
Chaparral Motorsports
|
March 8, 2013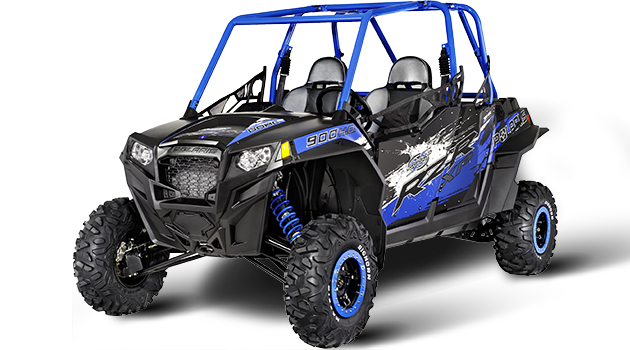 2013 Polaris Ranger RZR XP 900 H.O. Jagged X Edition:
Powerful Side-By-Side, Built To Race
If you're in the market for a powerful side-by-side ATV, you should check out the 2013 Polaris Ranger RZR XP 900 HO Jagged X Edition. This limited-edition ride is built to race, and Polaris is touting it as the most powerful, comfortable and premium RZR the company has ever built. The body of this model may seem familiar, as it was based on the RZR 4 900 four-seater. However, with a one-of-a-kind engine, custom racing seats and a slew of advanced features, the side-by-side outperforms its predecessors in nearly every category.

Power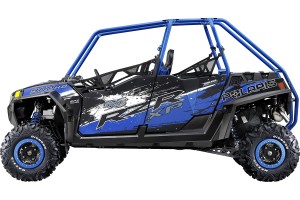 Polaris sets the Jagged X Edition apart from the rest of the RZR lineup right off the bat by equipping it with an engine that cannot be found in any of the other models. The brand new High-Output ProStar 900 churns out an impressive 94 horsepower, but perhaps most notable is that the Jagged X matches the standard XP 900 in terms of acceleration, despite having a larger chassis. It also outperforms the XP4 by a whopping 18 percent. Polaris also made a few adjustments to the UTV's parts and inner workings, including new intake and exhaust cams as well as stiffer valve springs. The high performance SLP exhaust features dual flow outlets that improve performance.

Comfort
Since the Jagged X model takes much of its cues from the four-seater, you'll find you have ample leg room in the side-by-side. Polaris essentially took the rear seats out of the large chassis and replaced them with two PRP racing seats. The wheelbase of the Jagged X is 26 inches longer than that of the standard XP 900, which provides a smoother ride and doesn't leave you feeling cramped up after a long ride. The bucket-style driver's seat has a 3-inch adjustment range, so you can find the most comfortable position, whether you're short or tall.

Premium features
Not only is the Jagged X more powerful and comfortable than other models, it's also overflowing with special features - just like you might expect from a limited edition UTV. While the ride was designed to be raced, Polaris also anticipated that some races might require you to have some supplies on hand. That's why there are lockable, weather-sealed double storage compartments in the rear cab area that can be removed if you would prefer to lighten your load. You may also be pleased to know the Voodoo Blue paint is unique to the Jagged X, as is the standard graphics package. The beadlock rims on the tires are painted to match the body as well.

2013 Polaris RZR XP 900 H.O. Jagged X Edition Image Gallery
(Click for full size images)