Isle Of Man TT Closes Entries
Chaparral Motorsports
|
March 6, 2013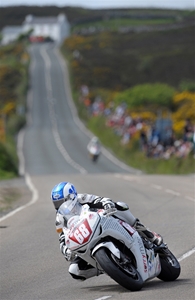 The Isle of Man TT is several months away, but rider entries have now closed and the initial lists indicate that the upcoming race should be an exciting one. All four classes - the Dainese Superbike, Royal London 360-degree Superstock, Monster Energy Supersport and PokerStars Seniors - boasted an excess of entrants this year, and spectators can get ready to see a solid mix of veteran riders and new competitors battle it out.

The Lightweight TT and the Sidecar classes are poised to have intense races with more entrants than ever before, Ultimate Motorcycling reports. There will also be more international competitors taking to the track. Cheung Wai is set to become the first Chinese racer to take part in the TT, while entrants from countries like Australia, Brazil and South Africa should mix up what is traditionally a European-heavy race.

"Despite the global economic turndown, the Isle of Man TT has attracted an incredible entry for 2013 in all classes," said Paul Phillips, manager of motorsports development for the race. "It is a testament to the TT's enduring appeal that, while many other events are seeing their entry numbers and quality reduce, we are having to turn people away with entries oversubscribed for the majority of our races."