2013 AMA Supercross St. Louis Results
Chaparral Motorsports
|
March 4, 2013
Ryan Villopoto Shines At St. Louis Supercross
[caption id="attachment_24089" align="alignright" width="300"]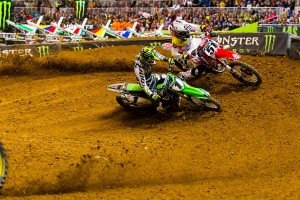 Ryan Villopoto just can't stop winning - Photo: InsdierMX.com[/caption]

Ryan Villopoto just can't stop winning. The Kawasaki rider was victorious for the fourth time in nine motorsports races, but it certainly wasn't an easy path to the top of the podium.

The race was only three laps in when a crash red flagged the contest. Villopoto, who had been in fourth place at the time of the stoppage, took advantage of the restart to pass other riders and battle with James Stewart for the lead, Ultimate Motorcycling reports. After lap 11, however, the Kawasaki rider was firmly ahead and stayed there for the remainder of the race. Stewart ended up in second and Chad Reed finished in third.

"It was a crazy night out there," Villopoto said. "I made a costly mistake on the first start, so I knew my work was cut out for me. I was able to make things happen on the second start and get out in front after some wild racing. It's coming down to crunch time and we were able to make it happen tonight."

Despite grabbing the victory, Villopoto still sits in second place in the points standings. Davi Millsaps remains on top after a sixth-place finish, although his lead has dwindled to just 12 points.

James Stewart Podiums At St. Louis Supercross
[caption id="attachment_24091" align="alignright" width="300"]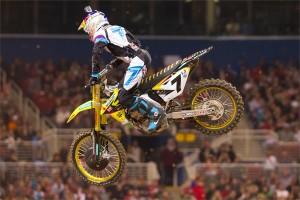 Stewart turned in an honorable performance and raced his Yoshimura Suzuki RM-Z450 to a solid second-place finish.[/caption]

Yoshimura Suzuki Factory Racing's James Stewart celebrated an impressive podium finish at round nine of the 2013 AMA/ FIM World Supercross Championship at the Edward Jones Dome in St. Louis on Saturday night.

In a round fraught with controversy and a Main Event re-start, Stewart turned in an honorable performance and raced his Yoshimura Suzuki RM-Z450 to a solid second-place finish.

For Yoshimura Suzuki's Stewart, the St. Louis round started out positively: Although he took a nasty tumble in practice, he was once again the fastest qualifier in the premier 450 Supercross class. He went on to get the holeshot in his heat race and then led all eight laps to take the win, marking his fifth heat race win of the year.

Said Stewart: "The heat races started off good. We got a great start on the Yoshimura Suzuki RM-Z450 and got around on the inside and we won that. I was still trying to loosen up a little bit from the practice crash, but overall it was pretty good."

[caption id="attachment_24092" align="alignleft" width="300"]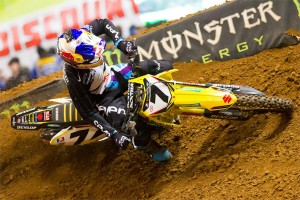 James Stewart diced back-and-forth with the competition, swapping the lead and battling for a podium position.[/caption]

In the Main Event, Stewart again got a good start and took the lead, but a crash in the first few laps resulted in a re-start and an abbreviated 17-lap race. The re-start was a single-file, staggered formation that saw Stewart take the lead again. He led the first half of the race, then held-off the hard-charging competition for several laps and rode safely in the midst of some questionable passing under a flagged section of the track. Stewart went on to dice back-and-forth with the competition, swapping the lead and battling for a podium position. When the dust had cleared, Stewart wound up finishing second.

"In the main event, I got another good start. I was in the top three-or-four so obviously I was happy with that. I was able to make my way into the lead and then a red crossed flag came out... After that, there was some aggressive passes here and there. Overall, I'm happy; the Yoshimura Suzuki team is killin' it right now and we're getting better and better every weekend. I'm just happy to be a part of this team and to be out here racing."

Yoshimura Suzuki Factory Racing's next event is the 10th round of the 2013 AMA/ FIM World Supercross Championship on Saturday, March 9th at Daytona International Speedway in Daytona Beach, Florida.

Source: Team Suzuki

Ryan Dungey Earns 4th At St. Louis Supercross
[caption id="attachment_24094" align="alignright" width="300"]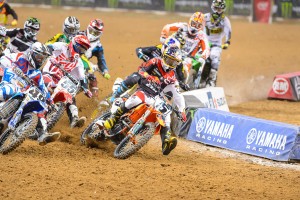 Ryan Dungey earned a hard fought 4th place in front of a packed crowd - Photo: Simon Cudby[/caption]

Red Bull KTM Factory rider Ryan Dungey earned a hard fought 4th place at the ninth round of the Monster Energy 450SX Supercross Series, an FIM World Championship, in front of a packed crowd at the Edward Jones Dome.

Dungey was placed in the second 450SX heat where he got a great jump but was pushed to the outside as they rounded the first turn. Despite getting pushed out, he still managed to round the second corner in 3rd place. He remained inside the top three for the remainder of the heat to eventually cross the finish line in 3rd position for a great gate pick in the main event.

When the gate dropped for the main event, Dungey earned a mid-pack start. By the end of the first lap he had moved to 9th position. At the end of the third lap he had already climbed up to 7th at which point the race was red flagged for an injured rider. Once the rider was assisted from the medical crew, the track officials lined the riders back up in a staggered start format based on their positions at the end of the third lap to restart the race.

On the restart, Dungey was able to quickly move up to 5th position after the opening lap. From that point on, the top five began a five-way battle for the lead position. On the twelfth lap of the race, Justin Barcia, who was running 3rd, made a mistake and couldn't triple, which allowed Chad Reed and Dungey to move around him. Dungey continued to pressure Reed for the remaining laps trying as hard as he could to earn that podium spot. Unfortunately, Dungey wasn't able to make the pass and had to settle for 4th position.

"The racing tonight was very close and I did my best to make up for a not so great start," stated Dungey. "I felt like I rode well once I found my momentum and I was able to have a good battle with Reed. Unfortunately, I just didn't have enough in the tank to get around him on the final lap and I landed just short of the podium."

Next Event: Indianapolis, IN - March 9, 2013

Source: KTM North America

Rockstar Energy Racing St. Louis Supercross Race Report
[caption id="attachment_24095" align="alignright" width="300"]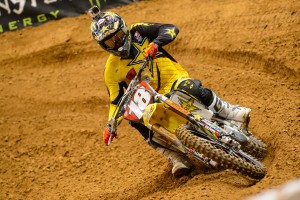 Davi Millsaps experienced his "bad race", however he had some outside influence getting there.[/caption]

As the night unfolded inside the Edward Jones Dome in St. Louis Missouri, chaos ensued. It was a very up and down, drama filled evening for Rockstar Energy Racing. There were two red flag restarts, including the 3rd staggered restart already in 2013. There were illegal passes on red cross medical flags and multiple protests. While Blake Wharton began to revisit the momentum he started with in Dallas, Davi Millsaps experienced his "bad race". However he certainly had some outside influence getting there.

Davi started the day good, posting fast lap times all day in practice. He followed that up with a solid 2nd place in his heat race. When the gate dropped for the 450 main event is when things began to go sideways. Millsaps didn't get his customary good start which is always treacherous with the incidents that happen in the pack. Davi was hit by Trey Canard with heavy contact to his forearm. His arm immediately swelled and pumped up, also limiting control in his throttle hand.

Then about halfway through lap 3, there was a bad crash. Ryan Dungey appeared to pass Davi under a red class caution, then took him out in the next corner. Millsaps lost 2 positions as a result of this altercation. This lap also marked the 2nd red flag of the evening. The 3rd lap was finished under caution. When 3 full laps are completed in the main event, it warrants a staggered restart. Unfortunately for Davi he lost those 2 positions and would be forced to start even further back in the single file line. The team was hoping for a full restart from the gate but that was not the case.

[caption id="attachment_24096" align="alignleft" width="300"]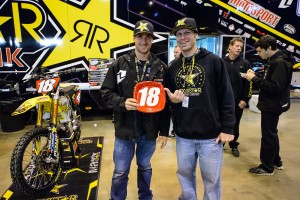 The team will now put this weekend behind them and look ahead still holding a 12 point lead.[/caption]

Already hampered by the swelling in his right arm Davi did everything he could. He was able to move into 6th place by race's end, salvaging as many points as possible. Then the drama unfolded. Dungey's pass on Davi was protested. James Stewart protested a pass Ryan Villopoto made, also appearing to be during yet another red cross flag caution. Team videos were provided by each team to the AMA. The final results went unchanged. The team will now put this weekend behind them and look ahead still holding a 12 point lead.

"It was a weird night, I did the best I could and salvaged what I could. All in all I had some bad luck tonight but there's always another night" - Davi Millsaps

On a much higher note. Blake Wharton appears to be back on track in the 250 class. After a bit of an off weekend in Atlanta where Blake still finished a commendable 4th, he looked to be a different person in St. Louis from the first lap in practice. The intensity that Blake is usually teeming with clearly had returned. He was aggressive all day and it showed as he won his heat race in impressive fashion with a great start, followed by gapping the rest of the field by the end of his 6 laps.

[caption id="attachment_24098" align="alignright" width="300"]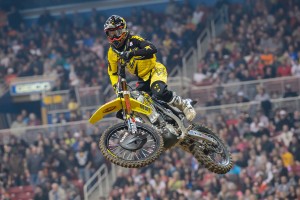 Blake Wharton appears to be back on track in the 250 class.[/caption]

Wharton's start wasn't as good in the main, but he made moves immediately to put himself in a good position among his top competitors. He had some good battles throughout, eventually settling for his 2nd podium in 3 races with a 3rd. Blake will continue to pick up speed as the East Coast 250 series carries on.

"Track was good in St. Louis, dirt is always good here and it turned out to be the same this weekend. I got the heat race win which is never a bad thing. You're never gonna complain about that. In the main my start was pretty average but I managed to work my way up pretty quick and find myself in 2nd. It was kind of a battle there for a while with me and Wil [Hahn} and then with Dean [Wilson]. I ended up getting passed back to third where I finished. I felt better this weekend. Still trying to make improvements and get faster and faster. We're 3 rounds in but there's still a lot more racing. I felt I wasn't 100% out there and I know what I'm capable of. I rode well but I have more. It's a matter of putting it down, getting in the groove and not looking back or resting. It's wide open for 15 laps. Going to Daytona next weekend which is an unpredictable track and we're gonna try to get on the top step." - Blake Wharton

The Rockstar Energy Racing duo will make the trip Southeast to Daytona International Speedway next weekend in Florida. Daytona is somewhat of a hybrid Supercross/Motocross track. Millsaps who spent part of his life growing up in the area will look to get back on track on the sandy surface where he has always excelled. Wharton will aim to build on his momentum vying for his first win of the 2013 season.

Source: Rockstar Energy Racing

Marvin Musquin Finishes 4th At St. Louis Supercross
[caption id="attachment_24100" align="alignright" width="200"]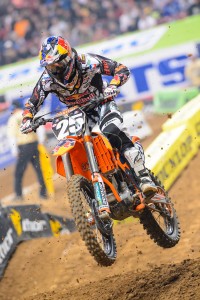 Marvin Musquin finished inside the top five with a 4th place result in the 250SX class - Photo: Simon Cudby[/caption]

Red Bull KTM Factory rider Marvin Musquin finished inside the top five with a 4th place result in the 250SX class at the third round of the Monster Energy East 250SX Supercross Series, an FIM World Championship.

Musquin had the second fastest practice time heading into the night show where he was placed in the first 250SX heat. He had a great jump off the start gate in his heat but crashed in the second corner. He remounted in the back of the back. At the end of the first lap he had moved his way back into the top ten. In the remaining laps he was able to make important passes to move his KTM into qualifying position. He eventually climbed back to 5th to qualify to the main event.

In the main event, Musquin earned a 4th place start only to crash in the sand section on the first lap. He quickly recovered only losing about five positions and finished the first lap in 8th place. For the next five laps he moved forward through the pack eventually passing into 4th place on lap five. Once in 4th, he settled into a solid pace and maintained his position through the remaining laps to finish one spot shy of the podium.

"I didn't have my best performance tonight," stated Musquin after the race. "I had some really good moments but I also had some moments I wish I hadn't. I got frustrated in the middle of the race when some lines I took didn't work out the way I hoped. I will keep working away at it and hope to return to the podium next weekend."

Next Event: Indianapolis, IN - March 9, 2013

Source: KTM North America

St. Louis Overview And Point Standings
2013 AMA Supercross St. Louis Image Gallery (Click for full size images)


Overall Results - Supercross Class: 20 Laps














































































































































































| Pos. | # | Rider | Bike | Interval | Best Time |
| --- | --- | --- | --- | --- | --- |
| 1 | 1 | Ryan Villopoto | Kawasaki KX 450F | 17:14.320 | 49.369 |
| 2 | 7 | James Stewart | Suzuki RM-Z450 | +03.396 | 49.843 |
| 3 | 22 | Chad Reed | Honda CRF 450 | +04.504 | 50.134 |
| 4 | 5 | Ryan Dungey | KTM 450 SX-F Factory Edition | +05.946 | 49.879 |
| 5 | 51 | Justin Barcia | Honda CRF 450 | +10.047 | 49.799 |
| 6 | 18 | Davi Millsaps | Suzuki RM-Z450 | +14.912 | 49.883 |
| 7 | 800 | Mike Alessi | Suzuki RM-Z450 | +18.680 | 50.493 |
| 8 | 41 | Trey Canard | Honda CRF 450 | +21.238 | 38.114 |
| 9 | 10 | Justin Brayton | Yamaha YZ450F | +23.593 | 50.980 |
| 10 | 29 | Andrew Short | KTM 450 SX-F | +25.982 | 51.040 |
| 11 | 20 | Broc Tickle | Suzuki RM-Z450 | +27.074 | 51.120 |
| 12 | 12 | Jake Weimer | Kawasaki KX 450F | +34.143 | 51.207 |
| 13 | 17 | Eli Tomac | Honda CRF 450 | +38.529 | 50.583 |
| 14 | 55 | Jimmy Albertson | Honda CRF 450 | +49.047 | 51.286 |
| 15 | 62 | Matthew Goerke | KTM 450 SX-F | 19 Laps | 51.190 |
| 16 | 85 | Kyle Partridge | Honda CRF 450 | +15.430 | 52.481 |
| 17 | 39 | Robert Kiniry | Yamaha YZ450F | 18 Laps | 51.449 |
| 18 | 46 | Weston Peick | Suzuki RM-Z450 | 9 Laps | 51.159 |
| 19 | 49 | Phillip Nicoletti | Yamaha YZ450F | 3 Laps | 53.979 |
| 20 | 11 | Kyle Chisholm | Yamaha YZ450F | 1 Laps | |
Point Standings - Supercross Class ( Race 9 of 17 )


Davi Millsaps - 189

Ryan Villopoto - 177

Ryan Dungey - 166

Trey Canard - 148

Chad Reed - 147

Justin Barcia -

James Stewart - 122

Andrew Short - 113

Justin Brayton - 103

Broc Tickle - 87

Matthew Goerke - 85

Mike Alessi - 74

Jake Weimer - 70

Weston Peick - 42

Joshua Grant - 40

Jimmy Albertson - 38

Kyle Chisholm - 38

Matthew Lemoine - 34

Vince Friese - 30

Robert Kiniry - 28

Overall Results - Supercross Lites East Class: 15 Laps
| Pos. | # | Rider | Bike | Interval | Best Time |
| --- | --- | --- | --- | --- | --- |
| 1 | 19 | Wil Hahn | Honda CRF 250 | 12:46.488 | 50.232 |
| 2 | 15 | Dean Wilson | Kawasaki KX 250F | +00.897 | 49.795 |
| 3 | 13 | Blake Wharton | Suzuki RM-Z250 | +11.580 | 50.388 |
| 4 | 25 | Marvin Musquin | KTM 250 SX-F | +17.963 | 50.812 |
| 5 | 77 | Jeremy Martin | Yamaha YZ250F | +24.985 | 51.029 |
| 6 | 42 | Vince Friese | Honda CRF 250 | +35.453 | 52.512 |
| 7 | 613 | James Decotis | Honda CRF 250 | +36.260 | 51.865 |
| 8 | 48 | Cole Thompson | Honda CRF 250 | +36.387 | 51.819 |
| 9 | 167 | Zachary Bell | Honda CRF 250 | +40.324 | 52.149 |
| 10 | 69 | Peter Larsen | Honda CRF 250 | +43.734 | 52.142 |
| 11 | 67 | Gavin Faith | Honda CRF 250 | +46.044 | 51.814 |
| 12 | 71 | Zackery Freeberg | Honda CRF 250 | +47.636 | 53.065 |
| 13 | 73 | A J Catanzaro | Kawasaki KX 250F | +49.159 | 52.519 |
| 14 | 675 | Kyle Hussey | Kawasaki KX 250F | 14 Laps | 53.104 |
| 15 | 248 | Mitchell Oldenburg | Honda CRF 250 | +06.004 | 53.128 |
| 16 | 317 | Justin Hill | Kawasaki KX 250F | +06.468 | 51.821 |
| 17 | 412 | Levi Kilbarger | Honda CRF 250 | +07.613 | 54.104 |
| 18 | 393 | Daniel Herrlein | Honda CRF 250 | +08.754 | 53.460 |
| 19 | 87 | Lance Vincent | KTM 250 SX-F | 12 Laps | 53.091 |
| 20 | 81 | Shawn Rife | Honda CRF 250 | +20.135 | 53.506 |
Point Standings - Supercross Lites East Class ( Race 3 of 9 )


Wil Hahn - 70

Dean Wilson - 69

Blake Wharton - 60

Marvin Musquin - 53

Vince Friese - 39

Gavin Faith - 38

Justin Hill - 36

James Decotis - 34

Jeremy Martin - 32

Kyle Peters - 31

Zachary Bell - 26

Cole Thompson - 25

Mitchell Oldenburg - 25

Lance Vincent - 22

Gareth Swanepoel - 13

Peter Larsen - 11

Jackson Richardson - 11

A J Catanzaro - 11

Levi Kilbarger - 11

Adam Gulley - 10