Weekend Warrior: 2014 Honda Pioneer 700-4
Chaparral Motorsports
|
March 2, 2013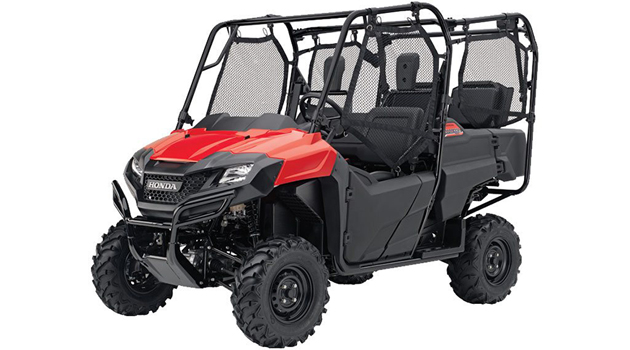 2014 Honda Pioneer Replaces Big Red
Honda recently unveiled its 2014 lineup of motorcycles, ATVs and off-road bikes, and among the new family is the Pioneer 700-4. This UTV stands out from the crowd because it offers the best of both worlds - the UTV, which looks suspiciously like Honda's two-seater Big Red, actually has a second set of seats in the rear that fold down individually into the bed. Now you can bring along an extra friend or two when you go out for a day trip into the wilderness and still have room for your supplies, making the model a real "pioneer" of advancement in the ATV world.

The new four-wheeler is actually a replacement for the Big Red, which is why it looks a lot like the side-by-side. In fact, the two models are approximately the same size, which helps the Pioneer stand out even more from other UTVs and ATVs that seat up to four people. Most four-seat rides are longer to compensate for the extra row of seats, but in the Pioneer, the second row just sits where the storage would usually be. Don't worry about not being able to bring everything you need either - the Pioneer can haul up to 1,000 pounds of cargo or tow 1,500 pounds, making as versatile as you need it to be.

To provide enough power, Honda equipped the Pioneer with a 700cc liquid-cooled four-stroke engine that uses fuel injection to deliver plenty of power to the automatic transmission, which is designed to resemble the automatic shifting setup in a standard automobile. The ATV also handles extremely well due to its smaller size, unlike most four-person rides that can get a little tricky to steer in tight situations. Plus, the long-travel suspension helps provide a smoother ride, thanks to the 7.9 inches of travel in the front and 9.1 inches in the rear.

You might already be dying to take the Pioneer for a spin, but Honda didn't stop at world-class handling and convertible seating to impress riders. The ATV comes in Honda's classic red, as well as green and a new Honda-designed Phantom Camo design, giving you a few options to suit your style. In addition to colors, Honda will help ensure you can customize the Pioneer to fit your liking thanks to more than 50 different motorcycle accessories that will be offered as add-on features and gear when the bike is released to the general public. We're not sure yet when the bike will be available, but Honda said it will release more details in May 2013.

2014 Honda Pioneer 700-4 Image Gallery
(Click for full size images)