Dani Pedrosa Leads After First Day Of MotoGP Testing
Chaparral Motorsports
|
February 26, 2013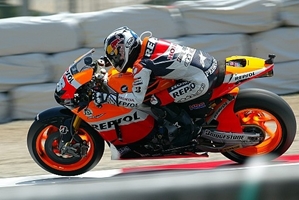 It may feel like every other motorsports series is already underway, but there's still several weeks to go before MotoGP kicks off its official season. Teams are working around the clock to get ready for the opening round, however, and the prep continued in Sepang as riders started three days of testing on the Malaysian track.

Dani Pedrosa clocked the fastest time on the slippery track, expertly handing the new regulation tires and gear on the slick surfaces to finish two-tenths of a second ahead of the next competitor. Despite turning in the top time, Pedrosa was all business after testing was complete.

"The track wasn't 100 percent after the rainfall from the past few days, but we were able to ride well," Pedrosa said. "In the afternoon it rained again, and we used this to perform some laps in the wet. Tomorrow we will continue the work that we have scheduled."

His teammate Marc Marquez also ended the day with an impressive time, finishing less than four-tenths of a second behind Pedrosa in third place. He was narrowly beaten by defending champion Jorge Lorenzo, who crossed the finish line in between the two Honda riders.

Testing will continue this week at Sepang before moving to Austin, Texas, from March 12 to 14.