Polaris Industries Joins The 2013 General Tire Mint 400 As Presenting Sponsor
Chaparral Motorsports
|
February 26, 2013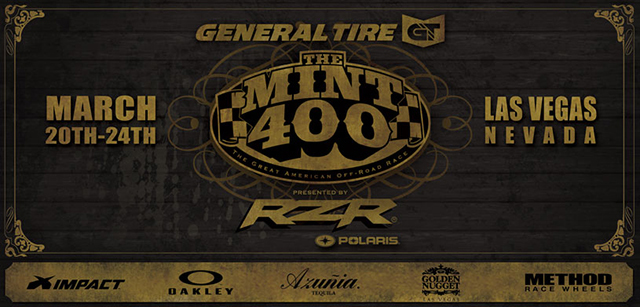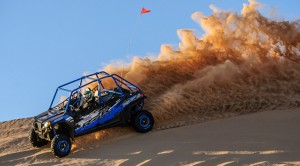 Polaris Industries Inc (NYSE: PII) has joined General Tire and a host of dedicated sponsors in support of "The Great American Off-Road Race" - The 2013 General Tire Mint 400 Presented by Polaris. Polaris is a global sales leader in off-road vehicles, and its RZR® line is the leader in innovation in sport UTV design worldwide. Based in Medina, Minnesota, Polaris has been manufacturing vehicles for nearly 60 years and is the preferred UTV platform for desert off-road racing. There are more RZRs entered in The Mint 400 than any other manufacturer, and Polaris provides factory support for Jagged X Racing and Coastal Racing.

"We are thrilled to have Polaris as the presenting sponsor for the 2013 Mint 400," said Mint 400 CEO Matt Martelli. "The UTV Class has exploded in growth over the past few years because they are affordable to campaign and virtually race-ready from the showroom floor. You can literally go buy a Polaris RZR from a dealer - and with a few modifications be out racing the next weekend! It's really exciting to watch people get into these vehicles and then become die-hard off-road race fans!"

"Polaris is honored to be the presenting sponsor of a race as legendary as The Mint 400," said Craig Scanlon, general manager, Recreational Off-Road Vehicles for Polaris. "The Mint has a rich history that puts off-road racing right in the heart of Las Vegas. From racers and celebrities tackling the brutal Nevada desert to the festivities surrounding the race, such as a pre-race display on Fremont St., The Mint is a celebration of off-road racing and Polaris is excited to be part of it."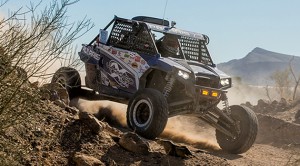 To help capitalize on the newly-formed partnership with Polaris, The Mint 400 has named UTVUnderground.com as the official Mint 400 UTV Class media outlet. They will provide daily updates of the Mint 400 UTV festivities and racing, including expansive coverage of all Polaris racing teams. Photo galleries and articles, as well as post-race video clips will be shared with UTV enthusiasts across The Mint 400 and UTV Underground social media networks.

The 2013 General Tire Mint 400 presented by Polaris, begins Wednesday March 20th, and will continue through Sunday, March 24. The most hardened off-road racers in the world, as well as more than 20,000 off-road racing enthusiasts and fans will descend upon Las Vegas to race, spectate and party during the four days of events surrounding The Mint 400. The Mint 400 hosts racers from every continent, competing in 22 different classes of race vehicles across 400 miles of brutal Nevada desert, for the chance to earn the coveted Mint 400 Class Championship, and host of cash and prizes. The Mint 400 festivities and race spectating are completely free and open to the public.

About The General Tire Mint 400
Known as "The Great American Off-Road Race," The Mint 400 is an epic battle between some of the top off-road racers in the world in over twenty-two different classes of off-road vehicles. The race was started in 1967, and is steeped in American lore, as thousands of racers, as well as celebrities from around the world, have attempted to tame the brutal Nevada desert. An entire week of events lead up the famed off-road race in and around Las Vegas, including a vehicle parade, drivers meet and greet, pit crew contest, crowning of Miss Mint, multiple parties, qualifying, and Contingency or Vehicle Tech inspection.
About Polaris
Polaris is a recognized leader in the powersports industry with annual 2012 sales of $3.2 billion. Polaris designs, engineers, manufactures and markets innovative, high quality off-road vehicles, including all-terrain vehicles (ATVs) and the Polaris RANGER® and RZR® side-by-side vehicles, snowmobiles, motorcycles and on-road electric/hybrid powered vehicles.

Polaris is among the global sales leaders for both snowmobiles and off-road vehicles and has established a presence in the heavyweight cruiser and touring motorcycle market with the Victory and Indian motorcycle brands. Additionally, Polaris continues to invest in the global on-road small electric/hybrid powered vehicle industry with Global Electric Motorcars (GEM), Goupil Industrie SA, and internally developed vehicles. Polaris enhances the riding experience with a complete line of Polaris and KLIM branded apparel and Polaris accessories and parts. Polaris Industries Inc. trades on the New York Stock Exchange under the symbol "PII", and the Company is included in the S&P Mid-Cap 400 stock price index.

Information about the complete line of Polaris products, apparel and vehicle accessories are available from authorized Polaris dealers or anytime at www.polaris.com.
Source: The Mint 400