World Superbike Completes Testing
Chaparral Motorsports
|
February 21, 2013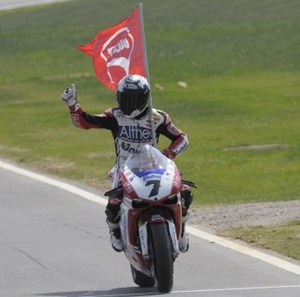 World Superbike has completed its final testing before the start of the season, and an unlikely candidate has emerged as a contender after a strong showing. The testing period, which ran for two days at Phillip Island in Australia, was the last official opportunity for tinkering before the motorsports season kicks off Feb. 24 on the same track.

Carlos Checa of Ducati Alstare ended the testing with the fastest time. The rider managed to combat a recent hospital stay and mediocre winter times to come out on top, Cycle News reports. Although he previously expressed concern over the state of the team, he quickly changed his tune after surprising everyone - including himself - with the fast finish.

"I'm extremely happy with the results - it was a nice surprise to make the fastest lap, with everybody riding in the same conditions," Checa said. "I honestly didn't believe that we'd be at this level at this point."

He was nearly two-tenths of a second faster than Marco Melandri, one of the favorites heading into the season. Leon Camier, who had a strong showing at last week's test, ended the two-day test with the third-fastest time.