Speed TV To Air AMA Pro Road Racing Daytona 200
Chaparral Motorsports
|
February 21, 2013
AMA Pro Racing and SPEED Release Broadcast Schedule for GEICO Motorcycle AMA Pro Road Racing and AMA Pro Flat Track's 2013 Season-Opening Daytona 200 Week
[caption id="attachment_23643" align="alignright" width="300"]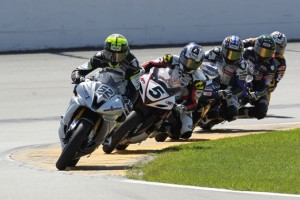 Fans can tune into SPEED on Friday, March 15, 2013, beginning at 6:00 p.m. ET/3:00 p.m. PT to catch the elite AMA Pro National Guard SuperBike class battle it out during Race 1 - Photo: Brian J. Nelson[/caption]

SPEED will once again serve as GEICO Motorcycle AMA Pro Road Racing and AMA Pro Flat Track's broadcast partner for the 2013 season opening DAYTONA 200 Week at Daytona International Speedway.

Fans can tune into SPEED on Friday, March 15, 2013, beginning at 6:00 p.m. ET/3:00 p.m. PT to catch the elite AMA Pro National Guard SuperBike class battle it out during Race 1. SPEED will pick back up on Sunday, March 17, 2013 to broadcast the rest of the weekend's intense AMA Pro Racing action from the World Center of Racing.

Tune in Sunday at 1:30 p.m. ET/10:30 a.m. PT to catch the AMA Pro GoPro Daytona SportBike class compete in the 72nd running of the DAYTONA 200, America's longest running endurance motorcycle road race. The stars of AMA Pro Flat Track will be aired next at 6:00 p.m. ET/3 p.m. PT and the thrilling action will conclude later that night on SPEED at 9:00 p.m. ET/6:00 p.m. PT when National Guard SuperBike Race 2 will be featured.

Highlights of the weekend's AMA Pro Motorcycle-Superstore.com SuperSport and AMA Pro Vance & Hines Harley-Davidson Series races from Daytona will be included in the SPEED broadcasts and will also be available live on SPEED2, an online-only racing network located at www.speed2.com.

[caption id="attachment_23645" align="alignleft" width="300"]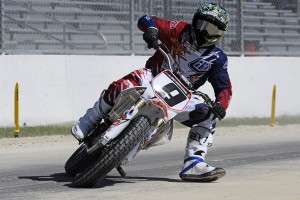 The stars of AMA Pro Flat Track will be aired at 6:00 p.m. ET/3 p.m. PT on Sunday, March 17th - Photo: Dave Hoeing[/caption]

Live coverage of Friday's Vance & Hines Harley-Davidson Series race and Motorcycle-Superstore.com SuperSport Race 1 can be viewed in a set of back-to-back airings on SPEED2 starting at 2:15 p.m. ET/11:15 p.m. PT. The second Motorcycle-Superstore.com SuperSport race can be viewed live on Saturday, March 16, 2013, on SPEED2 starting at 10:00 a.m. ET/7:00 a.m. PT.

The SPEED on-air team for GEICO Motorcycle AMA Pro Road Racing will once again include veteran motorcycle broadcaster Ralph Sheheen providing play-by-play, with Motorcycle Hall of Fame rider Scott Russell joining him in the booth for analysis. Longtime SPEED reporter and host Greg White will provide reports from the pits. Chris Carr will serve as a color analyst for AMA Pro Flat Track racing action.

In addition to television coverage, motorcycle editor Chris Martin and columnist Evan Williams will be providing insight and commentary on SPEEDtv.com. To follow all of SPEEDtv.com's motorcycle coverage, please visit .

About AMA Pro Racing
AMA Pro Racing is the premier professional motorcycle racing organization in North America, operating a full schedule of events and championships for a variety of motorcycle disciplines. Learn more about AMA Pro Racing at www.amaproracing.com.
Source: AMA Pro Road Racing