Soccer Star Wayne Rooney Designs Motorcycle For Charity
Chaparral Motorsports
|
February 19, 2013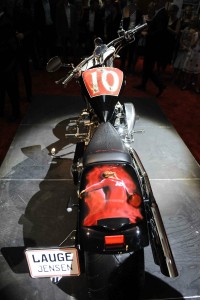 English soccer star Wayne Rooney is known for his performance on the pitch. The standout athlete and Manchester United player will soon be making waves in the motorsports world as well. Rooney personally designed a cruiser-style bike from the young Danish manufacturer Lauge Jensen that will be auctioned off for charity in Europe Feb. 20, IBN Live reports.

A few motorcycle accessories set the bike apart. An autographed shirt featuring Rooney's number and signature has been mounted and sealed onto the gas tank of the motorcycle, while a special shift rod is decorated with 21 black diamonds and one white diamond. A silhouette of the goal that inspired the machine is also emblazoned on the mudguard.

Early predictions estimate the bike will command anywhere between $62,000 and $93,000 on the auction block. All of the proceeds of the sale will go to KidsAid, a Danish organization that helps young children with various illnesses.