Real Life Superhero Fights Crime On A Motorcycle
Chaparral Motorsports
|
February 19, 2013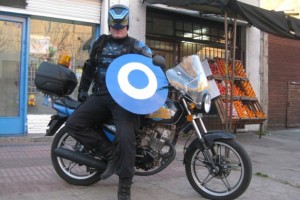 Batman has the Batmobile, Thor has his hammer, Captain America has his shield - and Menganno has... a motorcycle? While he may not be as famous as his comic book counterparts, a real life Argentinean superhero who goes by the name of Menganno has been fighting crime in Buenos Aires with the help of a Bajaj Pulsar 200 street bike.

"My goal is for all of us to be better and show more solidarity," the makeshift superhero said in an interview, as quoted by The Telegraph. "Injustice makes me sick."

According to Motorcycle.com, Menganno has been fighting crime in his South American neighborhood since 2010. Normally he carries a shield of his own, along with pepper spray and a flashlight, but he is always equipped with street bike gear to keep him safe on the road. Street bike boots, a helmet and shoulder pads act as his protective gear, while some other aspects of the suit, like the logo on his chest, are purely for aesthetics.

Menganno has since been unveiled as 43-year-old Oscar Lefosse, a former police officer in Buenos Aires. Now that he has been unmasked, he may hang up his crime fighting gear for good, but he'll probably keep using the bike to get around the crowded city streets.