Harley-Davidson Museum Opens New Motorsports Exhibit
Chaparral Motorsports
|
February 13, 2013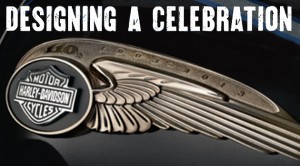 Harley-Davidson is continuing its 110th anniversary celebrations with the opening of a new exhibit at its official museum in Milwaukee, Wisconsin. The display will give museum guests a behind-the-scenes look at the design and manufacturing processes used to create Harley-Davidson's anniversary model motorcycles and the special logos they bear. Sketches, cruiser gear and limited edition motorcycles will all be showcased as a part of the exhibition, titled "Designing a Celebration," which is scheduled to run through Labor Day.

Starting with the 50th anniversary, back in 1953, Harley-Davidson has a solid tradition of anniversary vehicles to display. In 1988 they released another round of commemorative cruisers, this time for their 85th anniversary. Every five years thereafter, Harley-Davidson's styling department has created unique custom paint jobs and accessories for each limited-edition release. The exhibit showcases the creativity and story behind the iconic brand.

In addition to the new exhibit, Harley-Davidson has another special event from it's "Untold Stories" series planned for February 22, titled "Untold Stories: Built For Speed - The History & Evolution of Harley-Davidson Racing". This event traces the brand's involvement in motorsports, highlighting designs and racers that have played an integral role in racing history.

Several important figures from the world of motorcycle racing will be sharing their stories and experiences with the attendees. Riders like defending NHRA Pro Stock Champion Eddie Krawiec, three-time NHRA champion Andrew Hines, three-time AMA Pro Grand National Champion flat track racer Kenny Coolbeth, and nine-time AMA Pro Grand National Champion and Hall of Famer Scott Parker will be on hand to welcome the display. The ceremony will feature a panel discussion starring the guests of honor before Harley-Davidson unveils its motorcycles for the upcoming season of NHRA Pro Stock and AMA Pro Flat Track racing.