Electric Motorcycles To Get Their Own Racing Class
Chaparral Motorsports
|
February 13, 2013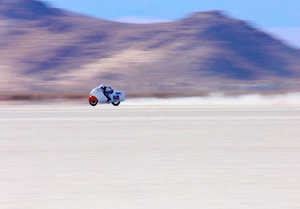 Electric motorcycles have become a popular option for riders in the market for a street bike, and soon the machines could start making their way further into motorsports as well. The M1-Grand Prix series will welcome these fuel-efficient bikes with open arms. The league recently teamed up with the Hollywood Electrics dealerships to set up a special all-electric class in the 10-round series.

M1GP Racing is primarily known for its mini-class road racing series, but this recent addition should change the way some people view the league. Gas2 reports that the introduction of electric cars could boost interest in the motorsports series and encourage amateur riders to compete in the league. In addition to providing a more affordable option for aspiring professionals, it also could offer an easier way to enter the world of motorsports.

"Production electric motorcycles have reached a performance level similar to that of the smaller displacement bikes the riders of M1GP have always relied on," said Harlan Flagg, the owner of Hollywood Electrics. "By introducing an electric motorcycle class, electric riders can have confidence knowing there is a safe and welcoming venue for aspiring racers."

Riders who want to compete in the series must buy a racing kit from Hollywood Electrics, which will include motorcycle apparel and gear necessary for racing.