2013 AMA Supercross San Diego Results
Chaparral Motorsports
|
February 11, 2013
Davi Millsaps Dominates San Diego Supercross
[caption id="attachment_23467" align="alignright" width="300"]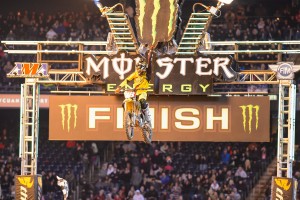 Davi Millsaps controlled the pace of the race from beginning to end.[/caption]

The sixth round of AMA Supercross marked the last time the motorsports series would host a round in California, and Davi Millsaps made sure the sport left the state with a bang. The Suzuki rider controlled the pace of the race from beginning to end, holding onto the lead throughout the entirety of the competition to claim the victory at Qualcomm Stadium in San Diego.

It was Millsaps' second win of the year and continues his string of strong performances, which have landed him on the podium in almost every race.

"When you're able to pull the hole-shot and ride 20 clean laps you make life a lot easier on yourself," said Millsaps. "... Everyone is working hard to make this happen. You have to be there every week to have a chance to win this thing, and we're doing our best to keep it out front."

Justin Barcia and Ryan Dungey rounded out the podium in second and third place, respectively.

With the win in San Diego under his belt, Millsaps extends his lead in the standings to 19 points over Dungey. Ryan Villopoto, the defending champion who finished this race in sixth after battling back from a rough start, is another eight points behind Dungey in third place.

Rockstar Energy Racing San Diego Supercross 450cc Race Report
[caption id="attachment_23468" align="alignright" width="200"]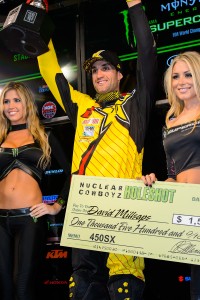 Davi Millsaps rode a flawless race en route to his second victory of 2013.[/caption]

Rockstar Energy Racing has been on a high all year particularly after the best overall performance 3 weeks ago in Oakland since the team's inception. That is where for the first time they had ever had a rider on the podium in each of the 250 and 450 classes. Davi Millsaps finished 2nd place and Jason Anderson 3rd in their respective classes. The riders would better that performance in San Diego with Jason again taking the 3rd place position but Davi bettering his result with a victory. 2013 just keeps getting better!

Davi Millsaps' last win prior to his A1 victory earlier this year was a mud race in 2010, coincidentally in San Diego. Because Millsaps doesn't like to talk stats much, it is also a little known fact that this weekend was his 100th consecutive SX start. That is a huge accomplishment with just how technical, competitive and just plain gnarly Supercross tracks are. In knowing that, if a rider who came into the series off the radar, went wire to wire in his 100th consecutive start and now celebrates a 19 point lead in the premiere class doesn't give you chills... you just plain aren't a race fan.

Davi's season thus far is one of the best stories in recent history. As mentioned before Millsaps started the 450 main with a holeshot and while he was pressured at times by advances from Chad Reed and Justin Barcia, he remained unaffected. Davi rode a flawless race en route to his second victory of 2013. He now has a little breathing room as the series heads east, but just as in previous weeks, he will continue to do what it takes and put in the work to improve whatever he can every day. He will not be satisfied with any one race result. The entire team will keep looking ahead.

"I'm doin the best I can. If it's me winning, or me second, or me third, as long as I'm doin the best I can, I'm happy with it. I'm definitely pumped for the whole team, myself and everyone behind me. Just for everyone, it was a pretty cool night. I think this win is a little cooler than the one at A1 cause I've never gotten the holeshot and led all 20 laps of a main event before. For me it was really special that I led the whole race without getting passed. You can't take anything away from the Anaheim 1 victory though. Everyone wants to come in and win that one. The season opener is a special one too. The difference this year has been the preparation. I'm on a bike I love, that I'm comfortable with, a team that's behind me and willing to give me anything I need and work with me. All of that for sure." - Davi Millsaps

Source: Rockstar Energy Racing

Ryan Dungey Earns 3rd at San Diego Supercross
[caption id="attachment_23470" align="alignright" width="300"]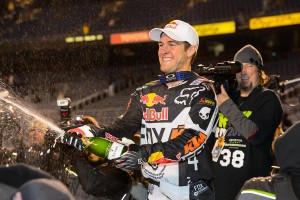 Ryan Dungey finished 3rd at round six of the Monster Energy Supercross Series - Photo: Simon Cudby[/caption]

Red Bull KTM Factory rider Ryan Dungey finished 3rd at round six of the Monster Energy Supercross Series, an FIM World Championship held a Qualcomm Stadium in San Diego tonight.

Dungey qualified sixth fastest from the days practice sessions to earn a spot in heat race number one. When the gate dropped for the heat Dungey rounded the opening turn in 8th and went on to work his way back into the top five, moving up to 4th place before the completion of the race.

He had a decent gate pick for the main event and elected to start from the third gate to the left of the start box. Launching from the start line Dungey was positioned in about sixth place by the end of the opening lap. Shuffling a few spots during the race, he successfully got around Justin Brayton to move into podium contention with six laps to go. Dungey's third place result is good enough to retain second overall in the championship points with 113.

"I'm actually pretty happy with my ride tonight," said Dungey. "It was a tough track to pass on and as I didn't get a great start, I think I rode pretty strong to come through the pack and finish on the box. It would definitely make my life a little easier if I could keep getting a start like I did last week! But that's just something I have to work on".

Next Event: February 16, 2013 - Arlington, TX

Source: KTM North America

James Stewart And Suzuki 4th At San Diego SX
[caption id="attachment_23473" align="alignright" width="300"]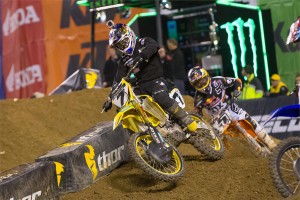 James Stewart claimed his second-consecutive top-five result.[/caption]

Yoshimura Suzuki Factory Racing's James Stewart claimed his second-consecutive top-five result at round six of the AMA/FIM Supercross Championships at Qualcomm Stadium in San Diego, California on Saturday night.

Stewart - who came into the San Diego event with several days of mid-week testing under his belt - also raced his Yoshimura Suzuki RM-Z450 to his second heat race victory of the season. He qualified second fastest during the day's practice sessions and went into his eight-lap heat race with confidence. There, Stewart got a good start and moved into the lead by the race's halfway point. Riding up front, he put his head down and held off a hard-charging second place to take the win.

Said Stewart: "This week I was able to get in two days of riding. It's tough when you're not able to put in the work during the week. But this was the best I've ridden all year, so I'm happy about that. I had to work for the win but it was fun."

Stewart came back out for the night's Main Event more than ready to race. Although he got a less-than-stellar start, the Yoshimura Suzuki rider made the most of his abilities and those of his Yoshimura Suzuki RM-Z450, riding smoothly but aggressively and picking his way through the field.

[caption id="attachment_23475" align="alignleft" width="300"]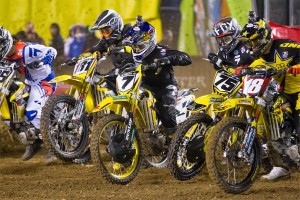 Although James Stewart got a less-than-stellar start, he made the most of his abilities, riding smoothly but aggressively and picking his way through the field.[/caption]

"In the Main Event, I got a bad start and was way back there," said Stewart. "But I made some passes. Overall, it was good and the Yoshimura Suzuki RM-Z450 was running great. I felt stronger in the Main Event, I just wished I'd been able to open up and pass some people. But I can't complain - two fourth places, top five. It's better than where we were, but it's still not where we want to be. Now we'll go back and I'm going to focus on my starts and getting better for Dallas."

Yoshimura Suzuki Factory Racing's next event is the seventh round of the 2013 AMA/ FIM World Supercross Championships on Saturday, February 16th at Cowboys Stadium in Arlington, Texas.

Source: Team Suzuki

Ken Roczen 2nd at San Diego Supercross
Maintains Red Plate For Third Straight Week
[caption id="attachment_23476" align="alignright" width="300"]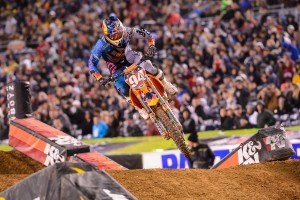 Ken Roczen finished second at the San Diego Supercross event - Photo: Simon Cudby[/caption]

Red Bull KTM Factory rider Ken Roczen finished second at the San Diego Supercross event tonight and with three rounds in the 250SX West Coast Series remaining has a solid points lead in the championship standings.

Roczen rode great all day starting from the early afternoon practice session where he qualified 5th fastest. In his heat race, Roczen jumped 4th out of the start gate and maintained that position until the races end. His solid heat finish gave him a good gate pick for the main event.

Off the start of the 250SX main, Roczen hustled mid pack rounding the opening turn yet managed to maneuver his way into third place by the completion of the opening lap. With Eli Tomac out front, Roczen set his sights on Jason Anderson for the number two spot and successfully made the pass on him by the midway point in the race. Never one to go down without a fight, Roczen set about reeling in Tomac for the lead and by the race's end was just 0.2 seconds shy of the race win.

With six rounds down and a 10 week break scheduled before the next round in West Coast series resumes in Seattle, Roczen holds an 18 point lead in the championship standings.

"I'm actually really happy with the way I rode tonight," said Roczen. "I was kind of uncomfortable on this track all day but I think I put together a good race come the main event. I guess my focus at this point in time is just to stay healthy and to keep things going the way they have been going at the races while our series is on a break and come out blazing again in Seattle."

Next Round: April 20, 2013 - Seattle, WA

Source: KTM North America

Rockstar Energy Racing San Diego Supercross 250cc Race Report
[caption id="attachment_23479" align="alignright" width="300"]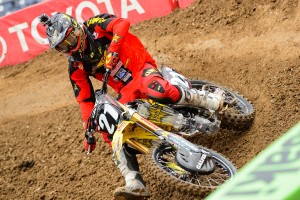 Jason Anderson, just like his teammate, rode a nearly flawless race.[/caption]

Jason Anderson rode a stellar heat race as he was engaged in a four way battle throughout the duration of 6 laps. He stayed strong physically and mentally crossing the finish line in second place. Then after the gate dropped for the main he fought through the first turn emerging out front! That was also a milestone as Rockstar Energy Racing has never put together holeshots in both main events on one night.

Anderson, just like his teammate, rode a nearly flawless race. By race's end he finished on the podium for the second time in 3 races and his third consecutive top 5. It was very important for him to have such a good result prior to the long break before the west coast 250 series returns to Seattle in mid April. With Jason's effort in San Diego, he made a huge jump in points. Although he only moved up one position from 5th to 4th, he made up a ton of ground and now sits a mere 7 points out of the top 3 with 3 races remaining.

"It was a good night, I struggled a little bit in practice and ended up qualifying 7th. I got good starts all night and ended up running up front so I'm happy about it. I got the holeshot in the main! Kind of unexpected for me. I actually shocked myself when I was up front but you know it's a good feeling to be up there. I've just been applying what I do at the test track to what I do at the races. That's what I've been working on. I've always been a good rider and been fast, it's just been about putting it all together. This is only my third holeshot in 3 years since Loretta's so I need to improve on that" - Jason Anderson

As 250 west coast riders Jason Anderson and Ryan Sipes will have a few weeks off before the series returns April 20th in Seattle, Davi Millsaps will carry his red number 18 east to Dallas focusing on adding to his points lead. Davi will be joined by Blake Wharton, a certain championship favorite in the east coast 250 championship.

Source: Rockstar Energy Racing

San Diego Overview And Point Standings
2013 AMA Supercross San Diego Image Gallery (Click for full size images)


Overall Results - Supercross Class: 20 Laps



Davi Millsaps: 15:52.353

Justin Barcia: +02.386

Ryan Dungey: +10.300

James Stewart: +15.286

Chad Reed: +16.477

Ryan Villopoto: +19.442

Justin Brayton: +19.889

Trey Canard: +20.787

Andrew Short: +35.361

Mike Alessi: +41.620

Broc Tickle: +44.219

Matthew Goerke: +47.499

Matthew Lemoine: +54.956

Weston Peick: -1 Lap

PJ Larsen: -1 Lap

Robert Kiniry: -1 Lap

Chris Blose: -1 Lap

Joshua Hill: -1 Lap

Ben Lamay: -1 Lap

Kyle Partridge: -1 Lap

Point Standings - Supercross Class ( Race 6 of 17 )


Davi Millsaps - 132

Ryan Dungey - 113

Ryan Villopoto - 105

Trey Canard - 105

Chad Reed - 97

Justin Barcia - 83

Andrew Short - 83

James Stewart - 74

Justin Brayton - 67

Broc Tickle - 57

Matthew Goerke - 56

Jake Weimer - 48

Mike Alessi - 40

Joshua Grant - 40

Kyle Chisholm - 37

Matthew Lemoine - 34

Vince Friese - 30

Weston Peick - 29

Kevin Windham - 21

Jimmy Albertson - 21

Overall Results - Supercross Lites West Class: 15 Laps


Eli Tomac: 11:58.662

Ken Roczen: +00.202

Jason Anderson: +15.657

Austin Politelli: +19.595

Kyle Cunningham: +23.188

Travis Baker: +24.990

Zach Osborne: +27.224

Tyla Rattray: +28.079

Martin Davalos: +28.714

Jessy Nelson: +29.479

Joey Savatgy: +36.389

Josh Cachia: +46.829

Christian Craig: +48.766

Jean Ramos: +52.911

Cole Seely: -1 Lap

Aaron Siminoe: -1 Lap

Chad Gores: -1 Lap

Travis Bright: -3 Laps

Chris Plouffe: -4 Laps

Malcolm Stewart: -4 Laps

Point Standings - Supercross Lites West Class ( Race 6 of 9 )


Ken Roczen - 138

Eli Tomac - 121

Cole Seely - 95

Jason Anderson - 88

Kyle Cunningham - 83

Martin Davalos - 82

Zach Osborne - 82

Joey Savatgy - 62

Christian Craig - 62

Jessy Nelson - 60

Tyla Rattray - 58

Austin Politelli - 57

Travis Baker - 53

Malcolm Stewart - 46

Max Anstie - 38

Ryan Sipes - 31

Josh Cachia - 29

Jake Canada - 21

Jean Ramos - 21

Michael Leib - 16