The Dirt Bike Guy: 2012 Kawasaki KX250F
Chaparral Motorsports
|
February 9, 2013
2012 Kawasaki KX250F: Fun And Powerful
Last year, Kawasaki practically redesigned the KX250F, and the result is a stunning example of what a good dirt bike should be. There are so many modifications, upgrades and other enhancements that set the 2012 model apart from its predecessor that they're almost incomparable, despite sharing a name and a similar look. This bike is better than the 2011 model, with unrelenting power from start to finish, making it a great choice for anyone looking to get a race bike that will leave other riders in the dust.

More power that you can handle
This bike is so responsive that you barely have to tap it for the engine to roar to life whether the engine is warmed up already or you're making your first run of the day. As soon as you pull back on the throttle, you'll shoot out onto the track - the 249cc liquid-cooled engine packs a punch from the low-end all the way into higher RPMs, so you'll want to make sure you're holding on tight. Once you climb to the higher RPMs, it's easy to maintain that power, as the bike was designed to perform its best when it's going fast. Despite all of this power, you'll find the KX250F is easy to control and rides smoothly.

Fun features enhance riding experience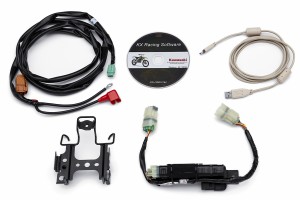 There are many new features on the 2012 Kawasaki KX250F that improve riding and give you more ways to customize your dirt bike. Kawasaki included a Digital Fuel Injection system as well as a second fuel injector located near the air intake for added power. The result is a better, more even distribution of power as you speed up and pass the competition.

Suspension tweaks for smoother riding
Kawasaki added a stiff suspension for this model, so you'll definitely notice when you're going over bumpy sections of the track. The 48mm Showa SFF Telescopic front fork has 40-way spring preload adjustability and 12.4 inches of travel. In the rear, the Uni-Trak linkage system and 9-position Showa shock offer 12.2 inches of travel. This allows you to handle big drops and other major obstacles without bottoming out, and with so many adjustable parts, you can fine tune the suspension so it's just the way you like it.

2012 Kawasaki KX250F Image Gallery
(Click for full size images)