Weekend Warrior: 2012 Can-Am Outlander 1000XT
Chaparral Motorsports
|
February 8, 2013
2012 Can-Am Outlander 1000XT: Tons Of Fun On Four Wheels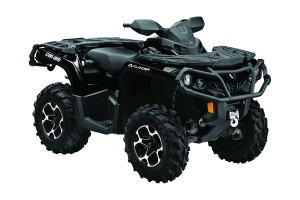 Can-Am outdid itself with the release of the 2012 Outlander 1000XT, as this ATV received a few major overhauls that boosted its performance to the next level. The result is a powerful, fun-to-ride machine that boasts impressive performance and handling. Perhaps most remarkable about this model is its engine, but the full effect would not be as noticeable if it weren't for the other tweaks Can-Am made to the 2012 model.

Technical Specs
The Outlander features a 976cc V-Twin engine with a 91 x 75mm bore and stroke as well as 80-degree cylinders that each have four valves. The motor churns out an impressive 82 horsepower, making it one of the more powerful ATVs on the market today. You can take full advantage of every ounce of power, thanks to the continuously variable transmission that provides High and Low ranges. You can gun it from a dead stop without holding anything back in the High range, or take a more modest approach by starting Low. If this is too much to handle, you can really ease into it with a secondary ignition key that limits the amount of available power until you're ready to really let loose.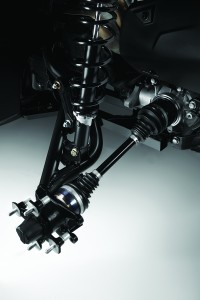 Unique Suspension
The Outlander features a Torsional Trailing Arm independent rear suspension. This helps the wheels move up and down while remaining oriented in a forward direction, much like the setup on the Polaris RZR XP as well as on the Can-Am Commander. With 9.3 inches of travel in the rear and another 9 inches in front, you don't have to worry about clearing obstacles that stand in your way. However, the Outlander's standard settings are designed for light riding, so you may need to fine tune the suspension before you attempt to ride hard or take on a more advanced trail.

Other Perks And Features
The appearance of the 2012 model is a bit different than that of years past, and you may notice there are larger headlights, making it easier to see where you're going on late-night rides. The foot pegs inside the wells are also raised a bit, so you can get a better grip. You'll be especially thankful when you're using the full power of the engine as you enter a turn.

2012 Can-Am Outlander 1000XT Image Gallery
(Click for full size images)