MotoGP Testing Picks Up In Sepang
Chaparral Motorsports
|
February 6, 2013
[caption id="attachment_23329" align="alignright" width="300"]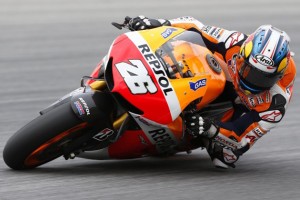 Dani Pedrosa finished with the best time of the day.[/caption]

MotoGP picked up right where it left off at the end of last season when the riders took testing to the Sepang International Circuit in Malaysia.

Dani Pedrosa finished with the best time of the day, edging in-season rival Jorge Lorenzo by a fraction of a second. The top duo is expected to continue the competition throughout the motorsports season, where they will be two of the favorites to win the championship.

"We've spent three months off the bike and the feeling from the first day [of] testing is positive," Pedrosa told Ultimate Motorcycling. "... I haven't ridden since the November test in Valencia, so today has been a first step to getting back on the pace. We didn't play about with the setup today, but we will move onto that in the remaining two days of testing."

Rookie Marc Marquez ended the day in third place, and Valentino Rossi and Stefan Bradl rounded out the top five on the first day.

The majority of the teams spent the testing time tinkering with engines, preparing to acclimate to a new rule that teams can only use five engines in the entire series. In the coming days, riders will likely start working on customizing gear and other pieces of equipment.