MotoGP Testing New Bridgestone Tires In Malaysia
Chaparral Motorsports
|
February 4, 2013
[caption id="attachment_23290" align="alignright" width="300"]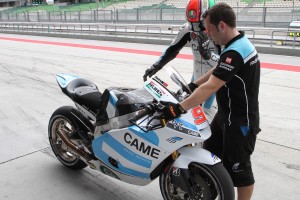 The rear slick Bridgestone tires being tested in Sepang were designed specifically for CRT machines.[/caption]

The upcoming MotoGP season is right around the corner, and with it will come some major changes to the motorsports series. Bridgestone, the official tire supplier for MotoGP, has been working on the development of a new rubber compound as well as sport bike tires designed for slick conditions, and both are currently being tested at Malaysia's Sepang International Circuit.

All MotoGP riders are on hand for testing at the Malaysian track, where many will have to acclimate to the new Bridgestone products. Rear slick tires were designed specifically for CRT machines in the series, marking the first time the manufacturer has created specific gear for non-factory bikes. While the tires will be very similar to those found on entries from companies like Ducati, Yamaha and Honda, the Bridgestone models are made from a softer rubber that should make them safer.

"Last season the Motorsport Tire Development Department focused on improving the safety characteristics of Bridgestone's MotoGP tires while maintaining high levels of performance," said Shinji Aoki, a manager in the department. "Although we were successful in achieving this objective, we've not rested on our laurels and have continued down this development path, and as a result we will have a wide selection of slick tires for riders."

Testing is just beginning at Sepang, but once it's completed the manufacturers should have a new outlook on the upgraded tires.