Weekend Warrior: Yamaha Rhino 700 FI Auto 4x4
Chaparral Motorsports
|
February 1, 2013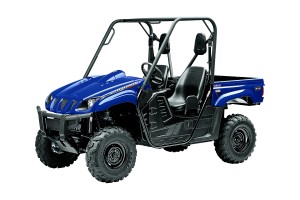 Yamaha Rhino 700 FI Auto 4x4:
So Good It Hasn't Been Changed In Years
Yamaha really nailed the side-by-side UTV with the Rhino, and after adding a fuel-injected, 686cc engine back in 2007, the ride has remained relatively unaltered. Why would you mess with such an impeccable ride anyway? This is especially great if you're looking to buy a side-by-side, since you don't have to buy a brand new 2013 model to get all the great features the Rhino has to offer. This all-utility UTV is tough enough to handle big jobs and haul large loads, while also being comfortable and fun to drive so you can cut loose when you're off the clock.

Technical Specs
The four-stroke, single-cylinder engine is coupled with a continuously variable transmission, making it easy to utilize the torque and horsepower of this motor. There is enough power that it's easy to pull a loaded UTV wagon. When you're riding for fun, this power translates to a great, exciting time, especially because the Rhino can reach speeds of 40 miles per hour. The engine's power is evenly distributed, making it a breeze to climb from a meandering speed to a faster pace.

Other features
If you are considering buying a new UTV, the 2012 Yamaha Rhino 700 4x4 has a few new features that help it stand out from the pack. Adjustable piggyback shocks, LED tail lights and a Baja-inspired front carry bar are just a few perks of the latest edition Rhino side-by-side. The ride also has extremely comfortable bucket seats with extra padding, so you won't mind sitting in this UTV all day long. In fact, it's so comfortable that you might not want to stop riding at the end of the day. This is especially true when you take into account the long travel of the suspension system, which makes it feel like you're riding on a smooth surface, even when the trail gets bumpy.

Final Thoughts
The Rhino may not be the prettiest sight to see when it comes to UTVs, as it doesn't take any design risks or try to make a statement with its overall look. The Rhino blends in with the side-by-side crowd from a distance, but once you get behind the wheel of this beats, you'll forget all about its looks. Performance is the name of the game, and the Rhino is a real winner in that category.

2012 Yamaha Rhino 700 FI Auto 4x4 Image Gallery
(Click for full size images)