Motorcycle Maniac: 2012 Harley-Davidson Fat Boy
Chaparral Motorsports
|
February 1, 2013
2012 Harley-Davidson Fat Boy: Stylish And Powerful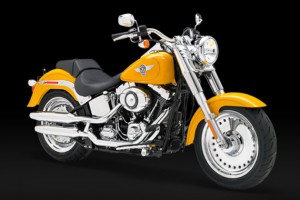 Few motorcycles make a statement the way a Harley-Davidson hog can, and sitting on the 2012 FLSTF Fat Boy Softail is a great way to leave a lasting impression. Many riders believe this particular ride exemplifies and practically defines the "Fat custom" bike, and I am inclined to agree. The motorcycle is stocked with modern conveniences and safety technology without sacrificing an inch of style, resulting in a bike that is as functional as it is stylish. From the buzz of the cruiser tires to to the rumble of the engine, the Fat Boy is extremely fun to ride.

A new engine for 2012
The Fat Boy, which debuted in 1990, has been through a number of changes, upgrades and redesigns in the past 22 years, and the 2012 model is no stranger to new features. The biggest change for this model is the engine, a new Twin Cam 103B V-twin engine that features electronic sequential port fuel injection. This is the same motor that Harley has given to all of its Softail bikes, and the 1,584cc engine, coupled with a six-speed transmission, offers more power than you'll likely ever need.

Other fun new features
Harley's engineers also gave this model a low-profile handlebar for a sleek look. The new design also makes it easier to reach the handlebars without sacrificing comfort, so you can ride with ease for longer stretches. Riders might enjoy the larger odometer on the 2012 Fat Boy, which displays more information, including RPM and gear readouts.

Many colors to choose from
The 2012 Fat Boy also comes in a few new color options. In addition to Vivid Black, you can choose from the cheery Chrome Yellow and a two-tone Midnight Pearl and Brilliant Silver Pearl combo. Harley is also offering two limited paint choices: Tequila Sunrise with H-D Orange combo and Deep Purple with biker flame detains on the gas tank and fenders. If none of these suit your fancy, you can always get the bike custom painted to your exact specifications, but Harley's choices are each beautiful in their own right, whether you want something low-profile or an eye-catching bike that will be hard to miss.

2012 Harley-Davidson Fat Boy Image Gallery
(Click for full size images)