The Dirt Bike Guy: 2013 Kawasaki KLX 250S
Chaparral Motorsports
|
February 1, 2013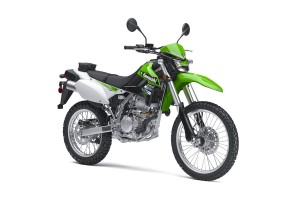 2013 Kawasaki KLX 250S: A Lightweight Dual-Sport Motorcycle Made To Please
There are plenty of dual-sport dirt bikes on the market, but if you're looking for a top-of-the-line model, the new 2013 Kawasaki KLX 250S may fit the bill. This lightweight performance machine is designed to excel equally on the road and in the dirt, and the best part is that it's fuel efficient, so you won't have to fill up in the middle of a day of riding. The lightweight bike's handling is extremely responsive, making it as easy to maneuver an off-road track as it is to zip through town. Overall, the modern motorcycle is one of the best in its class, so you may want to schedule a test drive during your search for your next dual-sport dirt bike.

Lightweight engine improves handling
The KLX 250S weighs just under 300 pounds, giving it the versatility to transition flawlessly from the pavement to an unpaved path. The 249cc four-stroke, liquid-cooled dual overhead cam engine is mounted in a lightweight steel frame, and positioned to give the bike a low center of gravity. That, coupled with a short wheelbase, makes sharp turns and tight maneuvering feel natural for the rider.

Keihin carburetor keep things running smoothly
Attached to the engine is a 34 millimeter semi-flat side Keihin CVK carburetor that helps the engine make the most of every drop of fuel. While many newer bikes are relying on electronic fuel injection to power their engines, Kawasaki's decision to stick with the traditional setup may seem like a bold move. But spend a little time on this bike and you'll see why the company chose this gear. The motorcycle rides smoothly and has an even delivery of power from low to high RPMs.

Suspension designed for on- and off-road comfort
When it comes to dual-sport bikes, it can be difficult to find one that has a suspension built to handle all riding conditions. The KLX 250S has a 43mm inverted cartridge-style front fork equipped with adjustable compression damping that has 10 inches of travel. Riders will have plenty of room to get the setting just right, thanks to a 16-way compression damping adjustment. In the rear, the Kawasaki has a Uni-Trak suspension that gives the rider 9.1 inches of travel. The rear suspension's progressive linkage rates help with bottoming resistance, making for a smoother ride.

2013 Kawasaki KLX 250S Image Gallery
(Click for full size images)