AMA Brings Back Classic Bikes For New Vintage National Championships
Chaparral Motorsports
|
January 29, 2013
[caption id="attachment_23138" align="alignright" width="300"]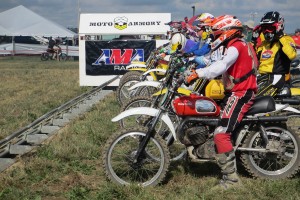 AMA Vintage Motorcycle Days, July 20-22, 2012 at Mid-Ohio Sports Car Course in Lexington, Ohio - Photo courtesy of the American Motorcyclist Association/James Holter.[/caption]

Fans of vintage motorcycles are in luck, as two new vintage motorsports series will make an appearance in the summer of 2013. Joining the ranks of the AMA Vintage Dirt Track National Championship, the AMA Vintage Motocross and
AMA Vintage Hare Scrambles National Championship Series herald the return of classic bikes competing in motocross races and hare scrambles competitions.

These new series will have four rounds taking place throughout the summer, debuting in Athens, Ohio, on May 4 and 5 and running until July 19 to 21 in Lexington, Ohio. The two middle rounds will be held on June 1 and 2 in Bronson, Michigan, and June 22 and 23 in Casey, Illinois.

Each round will last for two days, featuring vintage hare scrambles and motocross races on Saturdays and post-vintage races on Sundays. The final event will be a part of the AMA Vintage Grand Championships held at AMA's Vintage Motorcycle Days Festival, which celebrates classic bikes and motorcycle gear.

"Vintage racing is an important part of the AMA's past, present and future, and I'm pleased that we are able to expand our vintage motocross program into a series," said Kip Bigelow, the AMA's motocross manager. "Our members have expressed considerable interest in more vintage racing ... I'm looking forward to some great racing on the track."