The Dirt Bike Guy: 2012 Kawasaki KX450F
Chaparral Motorsports
|
January 27, 2013
2012 Kawasaki KX450F: Loads Of Power With Even More Control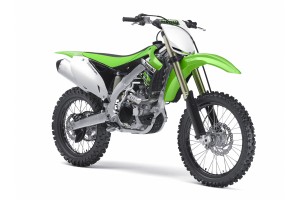 For 2012, Kawasaki redesigned the KX450F to be better than ever. Previous models had the same level of power, but they were consistently hard to control and lacked that little something in the performance department. Now, Kawasaki's engineers have added the right combination of refinements to create a motorcycle that is extremely exhilarating to ride around the track. Many changes have been made to the 2012 KX450F, even though it looks pretty much the same as the 2011 model.

Kawasaki kept the same liquid-cooled, four-stroke engine, but added a plethora of new hardware and software updates to improve the dirt bike's overall performance. For instance, the ECU has been updated to offer three maps - Standard, Hard and Soft - so you can use the bike on a variety of terrains. I heard from other riders that the standard mode is actually plenty aggressive, even on softer terrain, so you'll get lots of low-end and mid-range power. If the factory settings don't suit your desire, you can get one of Kawasaki's accessories that lets you create your own custom mapping.

The 2012 KX450F has a five-speed transmission and a 43mm Keihin throttle body. Combined with direct fuel injection, the engine gets every ounce of power possible to work up to the nearly 30 lb.-ft. of torque. Both wheels have excellent suspension, with 12.4 inches of travel on the front and rear. The KX450F has a traditional kickstart, something which seems to be growing less and less common in lieu of push-button starters.

As far as appearance goes, the KX450F looks similar to the 2011 model, but there are a few differences. For instance, the frame is marginally smaller and doesn't feel as big when you're sitting on it, which makes it a bit easier to control. However, the dirt bike's weight hasn't changed very much, so you still have to haul around nearly 250 pounds of metal. This makes it just 9 pounds heavier than Honda's 450, and the fourth heaviest in its class. The seat, muffler and blue anodized fork caps are new for this model, and you might also enjoy the embossed clutch cover.

2012 Kawasaki KX450F Image Gallery
(Click for full size images)