Motorcycle Maniac: 2012 Ducati Monster 696
Chaparral Motorsports
|
January 26, 2013
2012 Ducati Monster 696: Everything A Ducati Should Be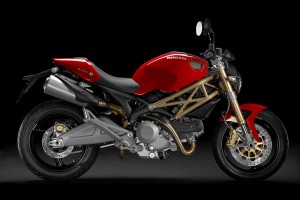 If you're looking for a unique street bike that will impress your friends, family and even strangers on the road, the 2012 Ducati Monster 696 might be the perfect motorcycle for you. This member of the Monster family is not only a fun-to-ride, high performance bike, but it also trumps the competition, so you can make other riders eat your dust. The 696cc engine may seem modest for a superbike, but once you hit the open road, you'll have no doubt this 20th anniversary motorcycle is plenty powerful.

The L-Twin Desmodue engine produces a staggering 80 horsepower and more torque that you'll ever need, making it fun and easy to ride this bike on every course from the simple to the complicated. You don't have to worry about downshifting, either, thanks to a special APTC clutch that helps to prevent rear destabilizing. This is great whether you want to take long trips on the highway or you're stuck in stop-and-go traffic on your way to the office. The "wet" clutch features 11 friction plates and 10 steel plates, which is not only quieter than a "dry" system, but also needs less maintenance to keep things running smoothly.

There are plenty of street bike parts and motorcycle accessories for the Monster 696 that can help enhance your riding experience. The control panel has an optional Ducati Data Analyser system that plugs in easily to the bike. It doesn't hurt that the speedometer and tachometer are large enough that you don't have to struggle to read them, whether during the day or at night. There is even a lap timer so you can improve your riding skills. The only thing it's missing is a fuel gauge, but a light will illuminate when you're running low on fuel, so you have plenty of time to make it to a gas station. You should note that the position of the control panel is a bit awkward, as you sit forward on this bike, putting the panel underneath you more than it is in front of you. This can make it hard to check in on the details when you're cruising at high speeds.

The bike's design does not stray very far from the Ducati style, as the main body panels are painted in the company's signature red. Highlights of gold in the frame, front forks and brakes offset the black, silver and red of the bike. This gives the 20th Anniversary paint style a naked design with a stand-alone look that is unlike any other model out there.

2012 Ducati Monster 696 Image Gallery
(Click for full size images)