Weekend Warrior: 2013 Kymco Maxxer 450i
Chaparral Motorsports
|
January 25, 2013
2013 Kymco Maxxer 450i: Great For Working And Playing
[caption id="attachment_23062" align="alignright" width="300"]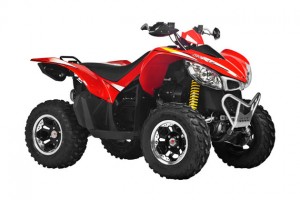 Kymco's Maxxer 450i Sport ATV is a fun four-wheel experience for every rider, from beginners to seasoned pros.[/caption]

The 2013 Kymco Maxxer 450i Sport ATV is a fun four-wheel experience for every rider, from beginners to seasoned pros. Not only is the ride fun to drive and great to take out on weekends, but it's also extremely helpful for anyone who has off-road work to be done. The all-new Maxxer 450i is a step up from the 375 it replaced, with a larger engine that generates more power on the same chassis as the Maxxer 375. This helps to keep the overall weight down, allowing riders to fly around the trails with ease.

The Maxxer 450i was given a liquid-cooled, 443cc engine that gets roughly 33 horsepower, which is a marked improvement over the power output of the 375. Thanks to a new electronic fuel injection system, the engine runs smoothly. Riders should note that the engine has a habit of flooding if they're not careful, but letting it warm up before tearing out into the wilderness can alleviate this issue. Once the ATV is ready and you hit the gas, you'll want to hang on tight. The four-by-four has a powerful pickup that lets your rocket out from a dead stop. That acceleration doesn't quit out as early on as the 375 model either, letting you experience the thrill of acceleration a bit longer.

The transmission for the 450i is rather impressive thanks to on-the-fly, push-button shifting in two- and four-wheel drive, and the electric start ensures you'll have no trouble firing the ride up and getting to work. You'll be quite comfortable while riding this ATV as well, since Kymco's design team created an ergonomic seat design that makes it easy for riders to maneuver their bodies and adjust their weight as they take sharp turns or overpower obstacles in their path.

Perhaps one of the best features on this new ATV is the suspension. With independent dual A-arm setups for the front and rear axles, you'll get up to seven inches of travel on each wheel, making it easy to traverse nearly any terrain. This comes in especially helpful when you're towing a heavy load, as the Maxxer has a towing capacity just shy of 1,000 pounds. It even comes standard with a 2-inch receiving hitch, so there's no need to go out and buy aftermarket accessories to turn this ATV into a workhorse for your next big project.

2013 Kymco Maxxer 450i Image Gallery
(Click for full size images)