Evolution Of Ducati Bikes On Display At MotoCorsa
Chaparral Motorsports
|
January 23, 2013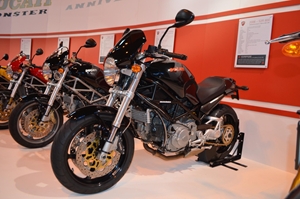 Through the end of January, motorsports fans and riders in the Portland, Oregon, area will be able to see the evolution of Ducati motorcycles with their own eyes thanks to an effort by MotoCorsa. The motorcycle retailer has been transformed into an exhibit that displays more than 30 bikes from six decades of Ducati history.

The exhibition, called "Museo Ducati," includes several models of bikes, sport bike accessories and paraphernalia that trace the history of the Italian manufacturer. Fans will definitely want to get a glimpse of machines like the 1957 175 Sport, which is widely considered to be one of Italy's best racing creations, as well as the 1974 750SS, a rare bike that can command more than $150,000 on the open market. All of the items were pooled together from other museums and private collections, and this is the first time many of the bikes will be on display.

"I was thrilled to hear about the Museo Ducati exhibition MotoCorsa was planning, as I couldn't remember the last time this many significant vehicles were assembled for public view in the Portland area," said Brad Tonkin, MotoCorsa owner. "... That thought really compelled me to get involved."

Museo Ducati is free and open to the public through January 31.