2013 AMA Supercross Anaheim II Results
Chaparral Motorsports
|
January 21, 2013
Ryan Villopoto Wins The Anaheim II Supercross Race
[caption id="attachment_22961" align="alignright" width="200"]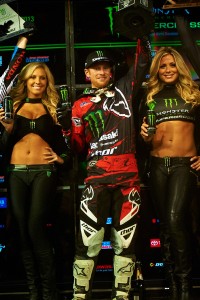 Ryan Villopoto got back on track with a win at Angel Stadium - Photo: Jacob Khan[/caption]

Defending champion Ryan Villopoto had some high hopes coming into the 2013 Supercross season. After a rough start in his first two races, Villopoto got back on track with a win at Angel Stadium in Anaheim, California in the third motorsports event of the year.

Villopoto began the race in sixth place but quickly started working his way toward the front of the pack. He capitalized on crashes and delays due to malfunctioning motorcycle parts involving some of his competitors, moving into third place before methodically passing the top two racers to take over the lead.

Once he was leading the charge, Villopoto kept up consistent times and held onto the number one spot as he crossed the finish line. Trey Canard and Davi Millsaps came in second and third, respectively.

"We finally got the ball going in the right direction and are digging ourselves out of the hole," said Villopoto. "Once I got into the lead, I was just trying to click ... and keep it consistent. The track was really slippery tonight, but I still tried to keep the pace up."

The victory ends Villopoto's five-race winless streak, which was the longest since he earned his first Supercross win in 2009.

Rockstar Energy Racing Anaheim 2 Supercross 450cc Race Report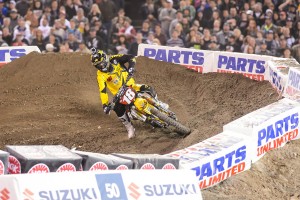 The Rockstar Energy Racing Team returned for the second of three races in Anaheim still holding the weight of the red plate on the number 18 bike of Davi Millsaps. The day began as good as anyone could have hoped. With Jason Anderson qualifying third, Davi Millsaps qualifying fourth and Ryan Sipes qualifying fifth in the final timed practice in each of their respective classes. This feat was the best the entire team had ever qualified as a group combined. The aura in the teams pits was as positive as could be with smiles everyone's faces.

Shortly after the gate dropped for Davi Millsaps' heat race, things went a bit sideways. Davi had what clearly seemed to be a certain holeshot. Then suddenly something happened. Millsaps was tangling with a couple other riders and was violently thrown over the bars entering turn one. Going down in the first turn amidst nineteen other fast moving 450's is a scary situation to say the least. Although Davi was run over, he was still lucky and it could have been much worse. He seemed to land in the most open area in the corner and avoided being hit by the majority of the pack. He got up and was very sore.

As if that wasn't enough adversity, the bike needed a lot of work in the short time before it had to be back on the line for the LCQ. Not only did some minor things need to be replace like a torn grip and back brake lever, but the entire engine had to be changed out. The whole Rockstar Energy Racing crew banded together with amazing teamwork to get him on the line in time. Now it was all up to Davi.

He charged off the line with a good start and ended up easily winning the last chance qualifier. It was evident as the short race went on that he was loosening up and picking up speed. It was clear that his heart is in it for this championship. Going into the main with the second to last gate pick on a track where everyone was fast posed a legitimate challenge. When the flames flared signifying the gate drop, it seemed like Millsaps took off while the other riders were standing still. Incredibly he got a good start from way outside. He quickly moved forward into 3rd place where he stayed for the majority of the main event.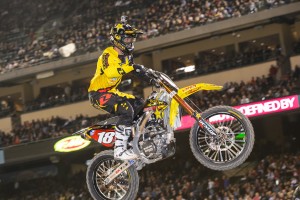 At one point Chad Reed passed him, but then Davi clicked it up a notch and immediately made his way back by and pulled a comfortable gap. He was then making up time on Trey Canard in second. Unfortunately as the raced neared it's completion, Millsaps slid out in a very slick turn. As the moisture began coming out of the ground, the hard packed sections became very dicey. He got up quickly and still finished a very respectable fourth place. With his continued consistency and effort, Davi still remains the red plate holding points leader going into Oakland next week.

Davi Millsaps: "The day started off good. I had good qualifying times and felt good on the bike. The bike felt great. The track was pretty gnarly. I got a good jump in the heat race and blew an engine down the starting line. Just a freak accident. There isn't anything anyone could have done. I went over the bars going into the first turn which is kinda weird. I hit my head a little bit, hurt my wrist, my hands, my fingers, my back and my shoulders. I won the LCQ, got a decent start in the main event, and worked my way into third. I rode in third for eighteen laps and ended up going down with two to go. All in all it was a good race and I'm happy with the result. I would have been happier with third but with how the day was and how it ended it was pretty good."

Source: Rockstar Energy Racing

Ryan Dungey Finishes 6th At Anaheim II Supercross
[caption id="attachment_22966" align="alignright" width="300"]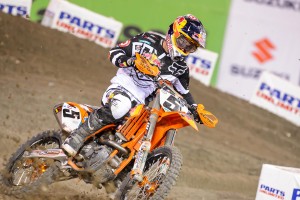 Ryan Dungey had a rough weekend at the third round of the Supercross season - Photo: Simon Cudby[/caption]

Red Bull KTM Factory rider Ryan Dungey had a rough weekend at the third round of the Monster Energy Supercross season after suffering a bad start in the main event. Luckily, he was able to charge forward from his 15th place start and pass up to 6th by the end of the twenty lap main event.

Dungey was placed in the first 450SX heat. He had a poor start and was sitting mid-pack around the first lap. He quickly moved up toward the top five and was battling for 5th position when he crashed with Jake Weimer at the halfway point. Dungey recovered in 11th place and quickly made up time to move up two positions and take the final transfer spot to the main event.

In the 450SX main event, Dungey, unfortunately, got off to another poor start and found himself buried in the pack. After two laps, he had moved up to 10th position. He continued to push toward the front of the pack and moved into 7th by lap six. He was able to pass Andrew Short for 6th place with five laps to go. Once in 6th place, he began to close the gap on the 5th place ride of Jake Weimer but ran out of time to make the pass. He eventually settled into 6th position where he finished for the night.

"I rode as best as I could tonight," commented Dungey. "Unfortunately, I had the far outside gate pick and suffered a bad start which hurt me in the main event. I am bummed about not finishing on the podium, but I will do everything I can this next week to change the results for the positive in Oakland."

Next Event: Oakland, CA - January 26, 2013

Source: KTM North America

Broc Tickle Scores Best Result At Anaheim 2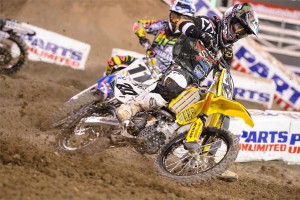 Broc Tickle
claimed his best finish in the 2013 AMA Monster Energy Supercross season on Saturday night at Angel Stadium in Anaheim, California with 11th place in the 450 Main Event aboard his Dodge/Sycuan Casino/RCH Racing/Bel-Ray Suzuki RM-Z450.

Tickle started 11th in the 20-lap Main, crowded off the track on the first lap and fell back to 16th. But he rebounded and found himself in contention for a top-10 finish at the end of the race and moved into 13th place in the series after three rounds.

Said Tickle: "Looking back now, I think that I should have lined-up to the outside and ripped the corner a little bit better. I got all bunched up with everyone trying to get through Turn 1 and it just cost me too many positions. We tried to attack the first turn and just ran out of room. But we finished 11th, which is another week of improvement for us.

"I thought that I came out of the gate really good. We just didn't have a good angle getting into Turn 1 and maybe should have lined up outside more. The Suzuki launched well and I felt great. Just a lot of guys trying to fight for the same real estate and got pinched a bit.

"On the first lap, I was making some good passes and a guy ran me off the track and I dropped all the way down to 16th," he added. "From there, I just started to put my laps down and wanted to be smooth. The track was pretty slippery and technical and I tried to carry as much speed as I could.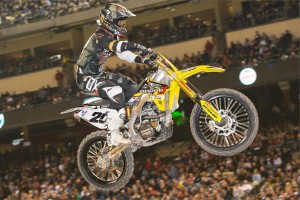 "I feel like the puzzle isn't put together yet. We're gaining on it; we just don't have all the pieces together yet. We're getting closer, but I still think that I should be running up in the top five."

The Holly, Michigan native started fifth in the second 450 SX Heat Race and posted a sixth-placed finish in the eight-lap dash. He comfortably transferred into the Main Event - the top nine finishers from each heat automatically qualify - earning his third Main Event start this season.

"I actually thought that I should have come out of the first corner in second," said Tickle. "I just ran a little bit wide and into the tuff block. I was running fourth and then Chad Reed caught me. I struggled a bit connecting with the track. I had a great start when the gate dropped and that was a real positive for us. We're just going to keep working at it and get this team running up front.

"I feel like the stuff that we worked on this week really showed today. I was relaxed at the gate and made sure that when the board goes sideways at the gate that I give myself a few seconds to relax and just get my composure. I did that and I felt that my starts were better. We just didn't have that great of a starting spot at the gate and got caught up into some guys trying to power through Turn 1."

The next event for the Monster Energy Supercross Series is Saturday January 26th at the Oakland-Alameda County Coliseum in California.

Source: Team Suzuki

James Stewart Fights Back From Anaheim Crash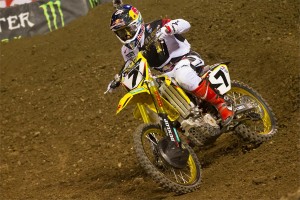 Yoshimura Suzuki Factory Racing's James Stewart made the best of unfortunate circumstances at round three of the AMA/ FIM World Supercross Championships when the series returned to Angel Stadium in Anaheim, California, on Saturday night.

Still recovering from a knee injury incurred at round one, Stewart turned in impressive qualifying times and a solid heat race before tangling with another rider and going down in the 450 Supercross Main Event.

Race day started strong for Stewart, who qualified third fastest on his Yoshimura Suzuki RM-Z450. Likewise, in his eight-lap heat race, the talented rider got a good start and rode a consistently-fast pace to finish second. In the 20-lap Main, however, Stewart overcame a bad start and had moved into the top 10 when he came together with another rider several times and ultimately went down. But he remained undaunted, rejoining the fray dead last and working his way through the field to finish 12th.

Said Stewart: "The day didn't go the way I hoped it would, but it started out good and the Yoshimura Suzuki RM-Z450 was working great in qualifying and my heat race. But in the Main, I got a bad start and then I got tangled up with another rider a couple of times and I fell over the second time. It was frustrating because I felt good going into the Main Event. Now I'm just focusing on Oakland next weekend, I like racing there and I've done well there in the past, so we'll see if we can't turn things around."

Yoshimura Suzuki Factory Racing's next event is the fourth round of the 2013 AMA/ FIM World Supercross Championship on Saturday, January 26th in Oakland, California.

Source: Team Suzuki

Ken Roczen Finishes 2nd At Anaheim II Supercross
[caption id="attachment_22974" align="alignright" width="200"]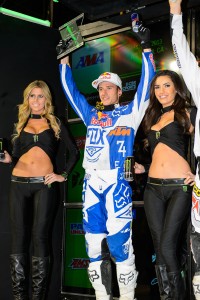 Ken Roczen finished 2nd overall at Angel Stadium - Photo: Simon Cudby[/caption]

Red Bull KTM Factory rider Ken Roczen finished 2nd overall at the third round of the Monster Energy Supercross season in the 250SX class at Angel Stadium. Now three rounds into the series, Roczen sits 2nd overall in the class point standings.

Ken Roczen was up in the second 250SX heat where he earned a 2nd place start off the line. He wasted no time moving his KTM into the lead position after overtaking the number one spot a few corners into the race. Roczen went on to lead all six laps of the heat to claim his third consecutive heat race win of the season.

In the main event, Roczen had a great start and was sitting in 2nd position as the bikes rounded the first corner. He maintained that position staying on the rear wheel of the 1st place rider, Cole Seely, for the first half of the race. On lap nine, Roczen made a mistake allowing Eli Tomac to make a pass into 2nd place. Two laps later, Roczen was able to reel in Cole Seely and make the pass back into the runner-up position. With three laps remaining, Roczen maintained his pace and rode a strong race to take home 2nd place.

After the race, Roczen commented, "I'm happy to finish 2nd today after suffering a hard crash in practice. I am a bit banged up but I feel better knowing that I am riding stronger each week. I was able to get another podium finish and my third heat win. I hope to continue to make progress over the next week to work toward a win."

Next Event: Oakland, CA - January 26, 2013

Source: KTM North America

Rockstar Energy Racing Anaheim 2 Supercross Lites West Race Report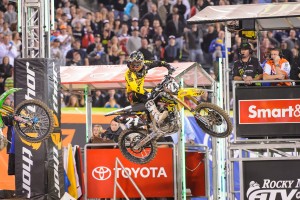 Jason Anderson
really had things clicking on the Anaheim 2 track. Qualifying a very fast third and being one of only a couple 250 riders to post a lap time in the 54 second range. He looked even more impressive in his heat race. Moving forward the entire race and finally moving inside of Martin Davalos to surpass him for second in the final turn. His main event did not start so well. The pack was coming into the second turn with a lot of speed and not much room for twenty bikes to make the 90 degree right hander. Jason went down. This may have been a blessing in disguise however as there was a very bad pile up in the next straight away. He then made one more mistake as he completed his first lap, then it was on. Anderson rode an amazing rest of his evening making it all the way up to 7th place, passing top riders en route. Jason moved back into the top ten in points, just three out of third.

Ryan Sipes also had great start to his day. Frequently posting times in qualifying that showed his number 35 on the board for the fast five. Then in the heat race, he got a stellar start and instantly moved into a heated battle for the lead as the crowd rose to it's feet. After multiple position swaps, Ryan completed the race victoriously with teammate Anderson in tow. Sipes was feeling very confident going into the main. Then shortly after the race began, Ryan was collected in a very brutal crash with multiple other riders. There was a huge pile up in the double step on step off section. A very bad place for an incident of this sort. Much to his chagrin, Ryan's night was done. There was nothing he could have done to avoid the cartwheeling bike in front of him. Sipes knows that's part of racing however and his only thoughts are getting back on the track as soon as possible.

Jason Anderson: "The weekend was alright. I had a good heat. Matched my career best heat race finish with a second place. Going into the main, I was really focused on my gate selection with the third pick. I ended up coming around the first corner in eighth. I crashed in the second turn and again at the end of the first lap and got stuck on a tuff block. I got up and made it all the way back to seventh."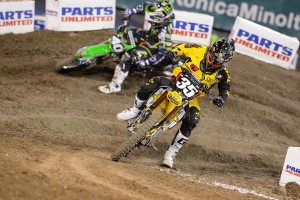 Ryan Sipes: "The race was a real bummer because I felt like I had what I needed to win. The heat race was awesome but in the main I was just in the wrong place at the wrong time. It's tough cause there was nothing I could do. I will be back strong in a few weeks though. Can't thank the Rockstar Energy Racing Team enough for sticking behind me"

Source: Rockstar Energy Racing

Anaheim II Overview And Point Standings
2013 AMA Supercross Anaheim II Image Gallery (Click for full size images)


Overall Results - Supercross Class: 20 Laps



Ryan Villopoto: 17:59.155

Trey Canard: +06.886

Chad Reed: +09.970

Davi Millsaps: +15.647

Jake Weimer: +18.016

Ryan Dungey: +18.865

Andrew Short: +33.627

Justin Brayton: +36.604

Matthew Goerke: +37.616

Joshua Grant: +46.546

Broc Tickle: +48.999

James Stewart: +52.440

Weston Peick: +56.142

Mike Alessi: -1 Lap

Kyle Chisholm: -1 Lap

Vince Friese: -1 Lap

Chris Blose: -1 Lap

Robert Kiniry: -2 Laps

Matthew Lemoine: -17 Laps

Justin Barcia: -18 Laps

Point Standings - Supercross Class ( Race 3 of 17 )


Davi Millsaps - 63

Trey Canard - 60

Chad Reed - 56

Ryan Villopoto - 52

Ryan Dungey - 48

Jake Weimer - 47

Andrew Short - 41

Justin Barcia - 40

James Stewart - 36

Joshua Grant - 32

Justin Brayton - 31

Matthew Goerke - 25

Broc Tickle - 22

Kyle Chisholm - 22

Weston Peick - 22

Kevin Windham - 21

Matthew Lemoine - 13

Vince Friese - 12

Mike Alessi - 9

Robert Kiniry - 5

Overall Results - Supercross Lites West Class: 15 Laps


Eli Tomac: 13:36.114

Ken Roczen: +03.412

Cole Seely: +10.780

Zach Osborne: +24.658

Jake Canada: +26.999

Christian Craig: +29.179

Jason Anderson: +31.053

Tyla Rattray: +38.098

Kyle Cunningham: +40.631

Jessy Nelson: +42.159

Malcolm Stewart: +43.515

Martin Davalos: +47.948

Travis Baker: -1 Lap

Dakota Tedder: -1 Lap

Scott Champion: -1 Lap

Diillan Epstein: -2 Laps

Max Anstie: -14 Laps

Joey Savatgy: DNS

Ryan Sipes: DNS

Michael Leib: DNS

Point Standings - Supercross Lites West Class ( Race 3 of 9 )


Eli Tomac - 75

Ken Roczen - 66

Cole Seely - 58

Zach Osborne - 47

Christian Craig - 35

Tyla Rattray - 35

Kyle Cunningham - 35

Jason Anderson - 32

Ryan Sipes - 31

Martin Davalos - 30

Jessy Nelson - 30

Malcolm Stewart - 29

Max Anstie - 26

Joey Savatgy - 23

Jake Canada - 19

Michael Leib - 16

Travis Baker - 14

Austin Politelli - 13

Blake Baggett - 7

Dakota Tedder - 7