Weekend Warrior: 2012 Can-Am Renegade 800R
Chaparral Motorsports
|
January 18, 2013
2012 Can-Am Renegade 800R: Built For Working And Playing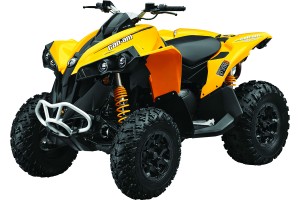 Can-Am completely revamped the Renegade 800R for the 2012 model year, and since 2013 models are already hitting showrooms, this could be the ideal ATV if you're hoping to find a used model. Designed as a sort of dual-sport/utility ATV, the Renegade provides a blend of rugged handling and superior performance that is tough to find in most rides. The Can-Am engineers used modern technology to create an ATV with the ability to race along an off-road track and also be able to help workers get tough jobs done.

In order to improve performance, the engineers who recreated the Renegade used computer-aided vehicle dynamics (CVAD) software to develop a new way of looking at the ATV chassis, according to ATVRiders.com. Using CVAD software, the designers came up with Geometric Contact Control, which not only improves driving performance, but makes the ride far more comfortable as well. In addition, the front suspension features a double A-arm with dive control, and the rear trailing torsional independent (TTI) suspension setup has also been redesigned.

The ATV features the 80-degree Rotax V-twin engine that can also be found in the Outlander 800R. The 799cc motor generates approximately 71 horsepower, and thanks to a 46mm throttle body and Siemens fuel injectors, you'll find the Renegade has excellent throttle control at all times. The air box redesign was one of the major points for the 2012 Renegade - Can-Am repositioned this ATV part so it is higher up, helping prevent dirt, mud and other debris from clogging the air intake valve. Inside the box, there is a dual-room setup that is highly effective at filtering the air before allowing it to enter the engine. This can certainly help cut down on wear, which means less work for you in the long run.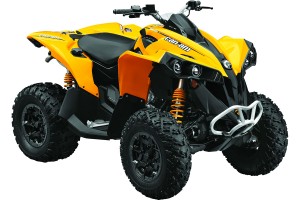 When you do have to perform a tune-up, make a repair or even add on a ATV accessory, you'll find it's a piece of cake to get your hands where they need to go. The Renegade's organization was retooled to protect parts and help you gain better access to them. The battery, solenoid starter, relays and brake fluid reserve have all been moved below the seat. Can-Am also redesigned the transmission, front lock differential and many other parts for an ATV that is sure to impress on the track or on the job.

2012 Can-Am Renegade 800R Image Gallery
(Click for full size images)