Harley-Davidson Jacket Goes On A Trek Around The Globe
Chaparral Motorsports
|
January 18, 2013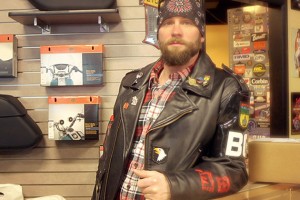 Harley-Davidson is in the middle of its year-long celebration of its 110th anniversary, and as part of that monumental occasion the manufacturer is sending its products on a tour of the globe. A single black leather motorcycle jacket, called the "Freedom Jacket," will make its way around the world, passing from rider to rider as it travels to famous destinations.

Riders will share their own stories or Harley-Davidson experiences along the way, explaining what it means for them to be a motorcyclist.

"The Freedom Jacket represents one of the most elemental yet powerful truths of what it means to be a Harley-Davidson rider," said Mark-Hans Richer, the brand's chief marketing officer. "A leather jacket is like a rider's soul - every pin, scratch, scrape and patch is a visual marker of your journey and becomes part of your identity and the stories you tell."

Planned stops for the jacket include Italy, South Africa, Australia and New Zealand. Since August of 2012 it has made six stops around the United States, gathering mementos from each destination - a tradition born from it's original ride across China where it gained the painted Chinese character for "freedom" it now boasts on its sleeve.

This piece of motorcycle gear will end its journey in Milwaukee for the final anniversary celebration from August 29 to September 1. Afterwards it will remain on display at the Harley-Davidson Museum.