Ducati Reaches New Heights In 2012
Chaparral Motorsports
|
January 18, 2013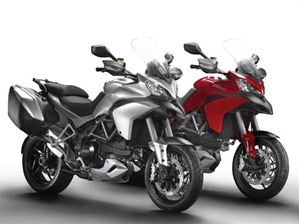 It has been a good 12 months for Ducati. The company recently announced that it achieved its highest ever sales in 2012, selling more than 10,000 motorcycles in North America. This number marks the tenth consecutive quarter of growth for the Italian manufacturer.

The increase was led by sales in the U.S. and Canada, which were up by 21 percent and 25 percent, respectively, in 2012.Motorcycles weren't the only division that saw such a high demand, as the brand's motorcycle accessories reached new sales records after growing by 42 percent.

"Ducati's new all-time sales record and the consistent growth in all North American markets confirm our customers' extremely positive response to our products and marketing programs," said Cristiano Silei, chief executive officer of Ducati North America. "We are fully geared to continue this growth in 2013 with many highly-anticipated new products and our strongest dealer network to day."

According to Motorcycle.com, the U.S. passed Italy to become Ducati's biggest market in 2011. Since then, the company has placed more of a focus on providing North Americans with top bikes, gear and motorcycle apparel.