Blake Young Ready For MotoGP Debut
Chaparral Motorsports
|
January 18, 2013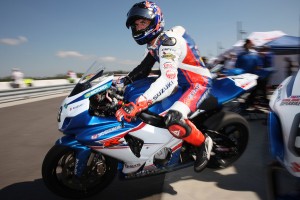 Blake Young
is making the move from AMA Superbike to MotoGP, where he will ride for Attack Performance as a wild-card entrant in several of the rounds.

Young, who was the AMA Superbike runner-up in the past season, wasn't re-signed by his Suzuki team after the 2012 motorsports series came to a close. Instead of switching to another team, he set his sights on moving up to a more competitive league

"[Attack] gave me a call and asked if I'd be interested," Young told Cycle News. "At this point I'm pretty much interested in anything and I think this is a good opportunity. To be in that [MotoGP] paddock and to learn from those guys ... I'm fairly young and that's something I've always wanted to do."

Attack Performance had some success last year with rider Steve Rapp, who had several top-20 finishes in rounds. His best was a 14th place finish at the Red Bull Indy Grand Prix at the Indianapolis Motor Speedway, which Young will attempt to best. He will be racing in at least three U.S.-based rounds for Attack, although it is unclear if anything else will come of that.