Suzuki Launches Special Promotions For 50th Anniversary
Chaparral Motorsports
|
January 17, 2013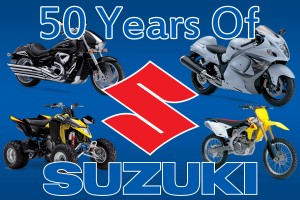 A 50th anniversary is supposed to be celebrated with gold, but don't tell that to Suzuki. Instead of receiving traditional gifts in honor of the company's 50th year of production, the manufacturer is celebrating by organizing special contests and promotions for fans throughout the year.

Prizes will be given away to customers and fans through the brand's anniversary on August 16. In each month throughout the year, a grand prize will be raffled off, with items like a 2013 Suzuki motorcycle or ATV going to lucky fans. Other giveaways include motorcycle accessories or ATV gear. The first prize that is scheduled to be raffled off on February 16 is the all new Champion Approved 2013 RM-Z450.

Those who wish to enter need a code, which can be found at a local Suzuki dealership. Once you have the February code it needs to be entered on your computer at http://bit.ly/fiftydesk or on your phone at http://bit.ly/fiftymobile for a chance to win.

"When Suzuki entered the U.S. market in 1963, customers first experienced the quality, performance value and fun of our products," said Steve Bortolamedi, a manager with Suzuki. "We want to commemorate the past five decades of Suzuki in the U.S. market by offering these incredible prizes to our customers to extend our appreciation for their support."

In addition to the gear giveaways, fans have an opportunity to be a part of the "Share Your Suzuki Story" campaign, which encourages customers to submit photos and stories about themselves and their Suzuki products.