KTM Has Record Year Of Motorcycle Sales In 2012
Chaparral Motorsports
|
January 16, 2013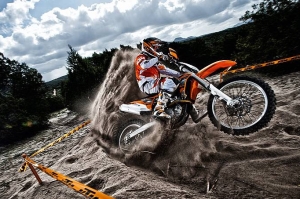 Motorcycle manufacturer KTM sold a record number of machines in 2012, moving more than 107,100 machines and boasting a worldwide growth of 32 percent.

Targeting the burgeoning Indian market helped KTM boost its sales. The company has a partnership with the Bajaj Auto brand, giving it a strong foothold in the Asian country, and looks to expand its popularity in India with the introduction of the localized Duke 390. KTM hopes this customized bike will tap into a new pool of riders, encouraging them to try riding motorcycles and purchasing the gear that goes along with it.

Of course, sales were strong in the U.S. as well, with multiple manufacturers reporting record numbers for the year. KTM had a 15 percent increase for American sales, which were mostly driven by the success of off-road models like the 350 SX-F, Motorcycle.com reports.

KTM can also be pleased with its sales performance in Europe. Despite the fact that the continental economy there is suffering - and a 12 percent overall decline in sales throughout the entire motorcycle industry - the brand saw a 9 percent increase in sales.

The banner year for KTM gives the manufacturer some momentum heading into 2013, when new releases, updated dirt bike accessories and a host of top-of-the-line small displacement machines should maintain some level of success.