Bridgestone Makes Changes To Improve MotoGP Tires
Chaparral Motorsports
|
January 15, 2013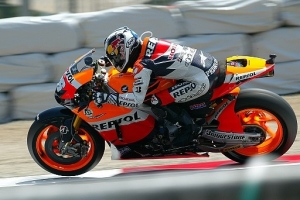 There will be several changes to the upcoming season of MotoGP that affect how teams strategize and competitors race. While the motorsports series should be just as action-packed as ever, alterations to tire allocations and requirements for factory and CRT bikes may impact the events.

Most of the changes were imposed to make MotoGP safer for all involved, especially after a 2011 season that was marred by crashes, Auto Sport reports. Bridgestone's tires were thought to take too long to warm up before a race, causing problems during the high-speed event and posing a safety hazard to riders. Loris Capirossi, who was installed as a safety adviser to the series, teamed up with Bridgestone to create safer tires and rules for MotoGP.

"Our goal was to provide a family of tires that were safer, easier for riders to understand and have the performance to meet the demands of the new generation of 1,000cc MotoGP motorcycles," said Hiroshi Yamada, Bridgestone's head of motorsports. "... We have achieved this objective, so yes I am very satisfied."

New regulations have led to the allowance of tires specific to CRT machines as opposed to factory machines, and more news about the number of tires a rider has at their disposal throughout the season may be on the horizon, the news source reports.