6D Helmet Is Tops At Supercross Race
Chaparral Motorsports
|
January 11, 2013
[caption id="attachment_22731" align="alignright" width="300"]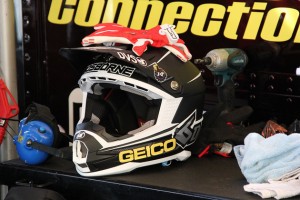 Eli Tomac's team, GEICO Honda, will be wearing the 6D ATR-1 for the 2013 Supercross season.[/caption]

Protecting the head is of utmost importance to the majority of motorcycle riders, and when those riders are motorsports competitors, the helmet becomes one part of a carefully compiled racing outfit. Helmets are an integral part of the riding experience and having the right one could make a difference in many situations. As such, using the top technology is essential for anyone on a bike - as any professional rider can attest.

Honda's Eli Tomac wore the new [mageProductLink sku="376-10-0104" title="6D ATR-1 F35 Stealth Motocross Helmet"]6D ATR-1 motocross helmet[/mageProductLink] during the first round of the 2013 Supercross series. Tomac saw some success - he led from start to finish and walked away with the victory.

"I'm extremely excited to be wearing the new 6D," Tomac said. "I'm aware of the benefits it offers in a crash circumstance, but I also like the fit, feel and function of the helmet as part of my race arsenal. They've done an excellent job building a competition helmet."

The safety benefits of the 6D include a new omnidirectional suspension system that is designed to reduce the likelihood of getting a concussion, the OC Register reports. By using two layers of independent cushioning material and special dampeners that allow the pieces to move separately, the helmet will disperse the pressure from an impact evenly around a riders head. There are also special features that help prevent sternum injuries or whiplash.