Rockstar Energy Racing's Davi Millsaps Dominates At A1
Chaparral Motorsports
|
January 8, 2013
[caption id="attachment_22651" align="alignright" width="300"]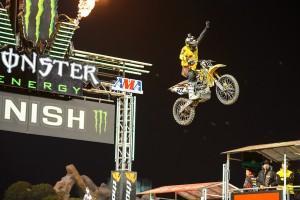 When the fire blasted, signaling the end of the race, it was Davi Millsaps who was fist in the air, earning him the glory of victory - Photo: Simon Cudby[/caption]

Coming out of the gates strong, Davi Millsaps took home the Holeshot and the win in the 450's at A1 on Saturday! Teammates, Jason Anderson and Ryan Sipes, showed well in the 250's, taking home 4th and 6th respectively.

After being one of only a handful of riders to have a consistent qualifying practice, Millsaps performed well in his heat and headed into the main event with confidence. As he exited the first turn in the main event, there was no one in front of him. Holeshot! Millsaps reeled off lap after lap nearly flawlessly in the lead. His competitors did not give him any room to breathe and remained at his heels. The top four became a freight train, pulling away from the rest of the field. With just a couple laps remaining, Trey Canard got by him. Typically nearing the end of a race, after being pressured for 17 laps, when a rider gets passed, the race is over. This was not the case with Millsaps who continued to fight and had a fast line in his back pocket leading into the whoops. On the last lap going into that section, his line was available. He carried the speed he needed and passed Trey in the same corner he had lost the lead to him a couple laps prior. When the fire blasted, signaling the end of the race, it was Millsaps who was fist in the air, earning him the glory of victory.

[caption id="attachment_22649" align="alignleft" width="200"]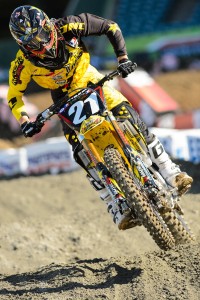 Jason Anderson had a breakout year in last season's Supercross and is coming into 2013 with a lot of momentum - Photo: Simon Cudby[/caption]

"When Trey Canard passed me I was like ahhh man, this is like Salt Lake City all over again. I knew I had a good line though and I just pinned it in the whoops and I got back by him. I don't think anyone really expected this. It was a new program, bike and team for me. We've all been working really hard during the off season to come out and do the best we can. To see where we are and where we need to be. Even though we won it's all building blocks from here. We'll go back and see how we can make it even better. It's been like that the whole time. It's really cool that Rockstar Energy Racing, Bobby Hewitt and Dave Gowland have given me the opportunity and stood behind me. It's like a family." - Davi Millsaps

Jason Anderson had a breakout year in last season's Supercross and is coming into 2013 with a lot of momentum. He was bit frustrated in practice, but mature enough to put that behind him going into the night show. He didn't get the best of starts in his heat race, but was still able to safely put his #21 into the main event. As the pack was exiting turn one in the main, Jason was fortunate enough to avoid the melee that ensued in front of him nearly unscathed. As Jessy Nelson hit neutral going into the first rhythm section, Anderson was actually hit by his bike but did not go down. He was in about 7th place at that point. He picked off one rider at a time until he found himself in fourth, and all over Cole Seely. You could have covered the two riders with a blanket for several laps before Jason finally settled comfortably into his very respectful fourth position. Anderson clearly had podium speed and we all know he is going to be one of the guys week in and week out. He knows he belongs there and that is a very important confidence booster.

"I started off a little rough in practice. We made some improvements to the bike and some suspension adjustments. Then I carried in my Anderson syndrome of bad starts from last year, but I broke that habit in the main. I came outta the first turn, dudes endoing in front of me in the middle of the rhythm section, and was able to start just out of the top five. I was able to work my way into fourth. I wasn't able to get around Cole Seely for a podium but I made it through A1. Now we will build on this going into Phoenix." - Jason Anderson

[caption id="attachment_22652" align="alignright" width="300"]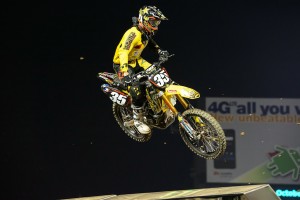 Ryan Sipes gave a very commendable performance showing a lot of heart and drive - Photo: Simon Cudby[/caption]

Ryan Sipes rode well all day in practice. Frequently posting lap times in the top five during qualifying. Ryan had a less than stellar start in his heat race but blew past rider after rider to qualify easily. Unlike Anderson, Sipes was not able to avoid the main event first turn pile up. He had his work cut out for him and had a lot of ground to make up. He moved into a battle with several other riders in the middle of the race. It's certainly no easy task to get around four other guys all fighting for position. Sipes patiently and methodically made smart moves to move by each rider in front of him. After being collected in the mess at the start, Ryan made it all the way to sixth place by the end. A very commendable performance showing a lot of heart and drive.

"I felt like it was an ok night. Obviously sixth place is not where we want to be, but everything was there except the start. I felt comfortable and I felt like my speed was right there. If we start in the top three, we will finish in the top three and be in the hunt for a win. Those guys looked really good out there but I felt very strong." - Ryan Sipes

Next up for the Rockstar Energy Racing team is Phoenix where Millsaps will be fighting to keep his red plate and Anderson and Sipes will be looking for that podium finish. If A1 is any indication, 2013 is going to an exciting year for Supercross.

Rockstar Energy Racing 2013 AMA Supercross Anaheim I Image Gallery
(Click for full size images)
About Rockstar:
ROCKSTAR is the world's most powerful Energy Drink. Enhanced with the potent herbal blend of Guarana, Ginseng and Milk Thistle, ROCKSTAR is formulated to provide an incredible energy boost for those who lead active and exhausting lifestyles - from athletes to rock stars. ROCKSTAR Energy Drink is available in 23 amazing flavors in over 30 countries worldwide. For more information visit www.rockstarenergy.com
Source: Rock Star Energy Racing