Weekend Warrior: 2013 Honda TRX90X - Perfect Present
Chaparral Motorsports
|
January 6, 2013
2013 Honda TRX90X - A Perfect Present For A Beginning Rider
[caption id="attachment_22561" align="alignright" width="300"]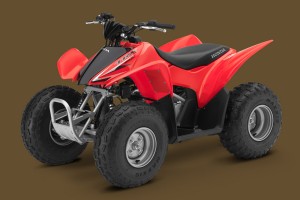 The 2013 Honda TRX90X may be the perfect ATV for kids to learn on.[/caption]

The holidays may be over for 2012, but there is a whole new year of gift giving around the corner. If you have a young family member who's been itching to hit the trails with you, the 2013 Honda TRX90X may be the perfect ATV for them to learn on. The low price tag is just one of the advantages you'll have if you want to surprise your kid with a new ATV for his/her birthday, or for whatever holiday you are celebrating. Keep in mind that the TRX90X is aimed for riders 12 and older, and you'll also want to make sure to get them some protective accessories like an ATV helmet and other riding gear so they're safe while they ride.

While your ATV might have a manual transmission and a clutch to deal with, your kid will probably not be quite ready to have so much to worry about when they're still figuring out how to handle the four-wheeler. Honda eliminates this concern by employing a semi-automatic transmission. They will still have to shift, but with a clutch-free system, this process will be much easier for them to get a handle on. When they're ready to transition to a more complicated ATV, it will also be easier for them to get the clutch under control than if they had a fully automatic transmission.

In addition to the transmission, Honda also made it easy for kids to get out on the track with a push-button ignition that fires up the engine right away for quick starts. However, kids can't just hop on the ATV and go without their parents' knowledge. A keyed ignition lets you choose when you kid can go riding as well as who is allowed to use the bike. This is great if you've got younger kids who might want to follow in the footsteps of their older siblings, and the parental control doesn't stop there.

There are adjustable throttle limiters that let you reign in the engine's power output. You don't want your kid to jump on the bike for the first time and floor it right out of the gate. Instead, this system allows you to gradually increase the throttle response so your kid can get used to riding the bike and learn how to do so correctly before you let them unleash the engine and tear around the track.

2013 Honda TRX90X Image Gallery
(Click for full size images)