Motorcycle Maniac: 2012 BMW F800R - A Fun Ride
Chaparral Motorsports
|
January 4, 2013
2012 BMW F800R : As Fun To Ride As It Is To Look At
[caption id="attachment_22548" align="alignright" width="300"]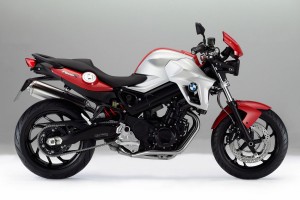 The 2012 BMW F800R defies the traditional BMW image with a bare bones, sporty look that sets it apart from the German lineup.[/caption]

Most BMW motorcycles are sleek, luxurious rides that look almost as though they came from the future, but the 2012 BMW F800R defies this image with a bare bones, sporty look that sets it apart from the German lineup. You might even go so far as to say the roadster's design is a nod to the dirt bike, with its low-profile front fender, exposed front fork and uncovered engine. The rear of the bike however, stays true to the sport bike styling, and when it comes to actually riding this bike, there's no mistaking it for anything but a BMW.

The motorcycle has a 798cc parallel twin engine that gets 87 horsepower and 63 ft/lbs. of torque, which makes you feel more agile than a gymnast whether you're zipping through city traffic, tearing around the track or cutting loose on the highway. In addition to the engine's impressive power output, BMW also painted it black and left it out in the open for admirers to ogle if you ever slow down enough for them to get a good look. Even if they don't get the chance to see the F800R's engine, they'll certainly be able to hear you roar past.

The bike itself is extremely light, weighing about 440 pounds with a full tank, which is a major part of the reason it handles so well in any riding condition. When it finally comes time to stop, you won't have to worry about a thing, thanks to the Brembo double disc front brake with four-piston calipers. The bike also has a standard anti-lock braking system, but you can upgrade to the BMW Motorrad ABS. You can also choose from a number of sport bike accessories so you can customize your ride.

There are very few bikes quite like the F800R, which comes in one of three color schemes - BMW's classic Mineral Silver Metallic, Magma Red with White Aluminum Metallic highlights, and Alpine white with Black Satin Gloss highlights. The Front mud guards and standard sport windshield are both painted in the body color as well, and the direction indicators are each painted white.

2012 BMW F800R Image Gallery
(Click for full size images)