Rockstar Energy Racing Goes Beyond The Finish Line
Chaparral Motorsports
|
January 3, 2013
Rockstar Energy Drink is proud to announce the Rockstar Energy Racing 2013 Supercross and Motocross line up!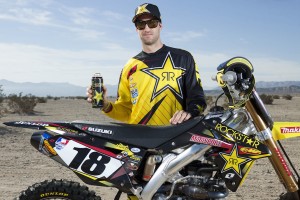 "We are very excited for this up coming season!," says Team Manager, Dave Gowland. "The whole team has worked very hard to take what we learned from last season and apply it to making 2013 our best yet! Adding the 450 element to our program has been a big under taking, one that we do not take lightly. Competing in the Premier Class means we really need to bring our A game. This team is an elite group of individuals that belong at the top. We are taking all the steps necessary to make it possible."

The Rockstar Energy Racing team is a solid group of dedicated riders. Davi Millsaps says, "I'm really happy to be on the Rockstar Energy Racing Team, and a part of the new 450 program. It's pretty cool to be able to help develop the bike and that whole side of things. I love the bike and everyone has been putting in 110% to make everything the best possible. I am very pleased and amazed at what they have provided me with! Dave Gowland, Bobby Hewitt, Jamie Ellis, Scuba Steve and Scott at Showa have been awesome to work with. I am looking forward to the 2013 season with the whole team."

Rockstar Energy Drink will be following the team throughout the year, creating a web series in a style rarely seen. Beyond the Finish Line will focus on the lives of the riders on and off the track - showcasing their true personalities, training programs, day to day routines, and even visiting their hometowns, where their careers began. Follow Rockstar Energy on YouTube (www.youtube.com/rockstar) to catch each new episode as it drops.

Episode 1: Life Beyond the Finish Line
"I am more excited about Rockstar Energy Racing this year than I have ever been in the past." said Rockstar Motocross Team Manager, James Hanson. "I am confident that the caliber of our riders going into the 2013 season will consistently produce great results. On top of having what I believe to be the best roster of athletes we've ever had, I am also enthusiastic about the supporting cast surrounding the team. The whole crew including truck drivers, mechanics, office staff, team manger and owner are all fully committed to making this the best year ever!"


More about the Rockstar Energy Racing Team:


Davi Millsaps - 450 Class - 2nd place overall 2012 450 Supercross Championship

Jason Anderson - 250 West - 5th place overall 2012 250 West Coast Supercross Championship, 2nd place finish at 2012 Salt Lake City Supercross

Ryan Sipes - 250 West - 1st place finish 2012 Seattle Supercross, 2 wins 2011 East Coast Supercross

Blake Wharton - 250 East - 3rd place overall 2012 250 East Coast Supercross Championship, 1st place finish 2012 Indianapolis Supercross, 5th place overall 2011 250 East Coast Supercross Championship

Nico Izzi - 250 East - 3rd place overall in 2008 and 2009 250 East Coast Championship, 5th overall in 2008 250 Outdoor Championship, 6th overall in 2012 Outdoor Championship first year on a 450

Daniel Baker - Amateur - 1st place in 250 B Mod, 250 B Stock and Schoolboy 2 at the 2012 Ponca City Amateur Motocross Championships, 1st place 4 stroke Supercross at 2012 Winter National Olympics

2013 Rockstar Energy Racing Team Image Gallery
(Click for full size images)
About Rockstar:
ROCKSTAR is the world's most powerful Energy Drink. Enhanced with the potent herbal blend of Guarana, Ginseng and Milk Thistle, ROCKSTAR is formulated to provide an incredible energy boost for those who lead active and exhausting lifestyles - from athletes to rock stars. ROCKSTAR Energy Drink is available in 23 amazing flavors in over 30 countries worldwide. For more information visit www.rockstarenergy.com.
Source: Rockstar Energy Racing