Oakley Airbrake Goggles Changing The Face Of Motocross
Chaparral Motorsports
|
January 2, 2013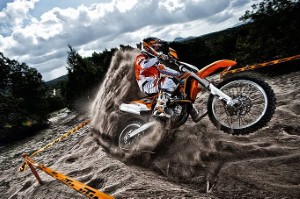 Rumors have been swirling around a special motorcycle accessory that's about to hit the market. Oakley, the brand famous for their sunglasses and other optic accessories, is creating a goggle called the [mageProductLink sku="757-979" title="Oakley Airbrake Speed MX Goggle"]Airbrake MX[/mageProductLink] that is specifically made with increased protection and style for motocross riders.

Oakley recently released a sneak peek of this new goggle, sending out a 20-second clip showing what appears to be the final design of the Airbrake MX. Phrases like "I am invincible," and "A revolution is coming" are interspersed in the preview, hinting that the latest addition to the world of motorcycle accessories will set a new standard in the world of motocross optics, KJ Motorsports reports.

Motorcycle riders will have to wait until March 1 for the release of these state-of-the-art goggles, but their first real debut will come in early January when competitors in the first Anaheim Supercross race use the gear on the course. Competitors like Ryan Villopoto, Ryan Dungey and James Stewart have been using prototypes and testing the goggles for months, providing a few brief glimpses of the product as well as some world-class feedback on its performance in high-octane motocross races.