KTM Looks Ahead To The Dakar Rally
Chaparral Motorsports
|
January 2, 2013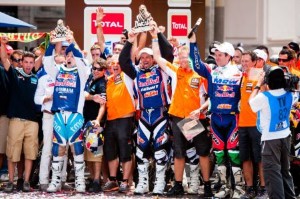 One of the world's most exciting outdoor races will kick off January 5 when the Dakar Rally begins in South America. The motorsports event, which previously ran from European cities like Paris, France, to Dakar, Senegal, will head in a new direction this year. The 2013 race will start in Lima, Peru, and then take riders to Tucuman, Argentina, before ending in Santiago, Chile.

KTM, which has won 11 consecutive rallies, has its eyes set on another victory in 2013. The pressure will be on defending Dakar Rally champion Cyril Despres, who is riding the KTM 450 Rally factory bike. Despres is searching for his fifth win in the race and is one of the favorites to win, Cycle News reports.

"I am always cautious," Despres told Ultimate Motorcycling. "I always say that my biggest rival on the Dakar isn't the other competitors but the desert itself. That is the thing on the Dakar that no one can master."

Last year, Despres was chased by his teammate Marc Coma, and the two finished the 15-day race just minutes apart. However, Coma is still feeling the effects of a shoulder injury suffered during the Rally of Morocco and will be replaced by off-road rider Kurt Caselli.