The Dirt Bike Guy: 2012 KTM 690 Enduro R
Chaparral Motorsports
|
December 31, 2012
2012 KTM 690 Enduro R: A Great All-Around Option
[caption id="attachment_22451" align="alignright" width="300"]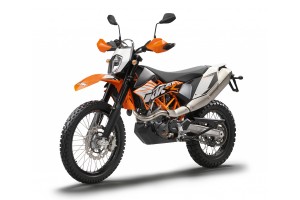 The 2012 KTM 690 Enduro R was redesigned to be both more comfortable and more powerful than previous models - Photo: Mitterbauer H.[/caption]

Last year, KTM debuted the redesigned 2012 690 Enduro R, which was stocked to the brim with improvements and motorcycle accessories. While the 2013 model is now available, last year's bike is still highly competitive and you might even be able to find a used model for sale. The 2012 version was redesigned to be both more comfortable and more powerful than previous models, and after such an overhaul, the 2013 model didn't see a lot of major changes, making either one a viable option for riders looking for a new dirt bike.

The 690 Enduro R features a liquid-cooled LC4 single-cylinder engine with 690cc displacement. Thanks to a larger displacement and a longer stroke, the engine has more oomph that you'll really feel on the track. But you don't have to worry about getting jostled around either, as KTM included an anti-hopping clutch to cancel out rear-wheel chatter and a balancer shaft that cuts down on vibrations. Another cool feature for the engine is the electronic management system, which lets you program three mappings so you can ride the bike in a variety of conditions with ease.

The nearly 10 inches of suspension travel also saves you from feeling every bump and dip in your path, but you'll still feel balanced and secure on this bike, as it has a low center of gravity. KTM used an upside down fork for the front suspension, and riders are able to adjust the compression for high- and low-speed situations.

KTM chose to use a set of [mageProductLink sku="329-0180" title="Continental Conti Twinduro TKC Dual Sport Tire"]Continental TKC 80 OEM tires[/mageProductLink], which provide a great deal of traction, making this bike handle just as well in wet conditions as it does on a dry track. You can stop on a dime, thanks to a set of lightweight Brembo wave disc brakes. These brakes complement this bike perfectly, helping you hug turns and easily make your way up and down steep inclines. The wide handlebars also help you comfortably control the 690 whether you're riding through dirt or on pavement.

KTM stuck with the traditional bright orange color in the design, but the body is not just solid colors. Rather, the designers incorporated the company logo in a vertical striped pattern across the fenders, windshield mount, and body of the bike.

2012 KTM 690 Enduro R Image Gallery
(Click for full size images)