Tour The Best Of Italy On Motorcycles
Chaparral Motorsports
|
December 29, 2012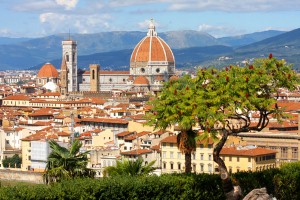 Italy is a powerhouse when it comes to all things related to motorcycles. From motorsports to manufacturing, the country is consistently ranked among the best in the world, making it the perfect place to see from the back of a bike.

Edelweiss, a bike travel company that offers organized tours of destinations all over the world, is launching a special Best of Italy trip for 2013 and 2014. Travelers ride the Ducati Multistrada 1200, an Italian-made bike, through the country's Tuscan region and even get the opportunity to tour the Ducati factory and museum in Bologna. Much of the route winds alongside the Alps and Apennine mountains, providing great views from the road.

Visitors also get to see cities like Florence, Siena, Assisi and San Marino, traversing an average of 60 miles per day on their bikes. Along the route they have the opportunity to stop at smaller towns or villages, dine on local Italian cuisine or take in some of the sights. Vans belonging to the tour company transport luggage to the guests' hotels during the trip, ensuring that no one has to do without modern conveniences as they cruise through the Italian countryside.