BMW Ride Of Your Life Participants Chosen
Chaparral Motorsports
|
December 21, 2012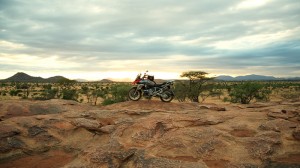 BMW Motorrad announced it would be hosting a cross-continental "Ride of Your Life" tour several months ago, and after filtering through thousands of applications the manufacturer has selected five lucky participants to complete the ride.

Each of the chosen ones will ride a leg of the worldwide "One World, One GS" tour on the new BMW R1200GS. The five winners were selected from more than 12,000 applicants by a panel of judges who were on the hunt for participants with a love of motorsports.

BMW chose one female rider - Stephanie Rowe, a 25-year-old enduro fanatic who works in the motorcycle accessories industry in the U.K. She is joined by Herbert Unger, a 50-year-old German metal worker and Salvador Echevarria, a 41-year-old Spanish businessman. Also chosen was Stephane Gautronneau, a 39-year-old photographer from France and Alessio Cigolini, a 34-year-old motorcycle enthusiast from Italy.

"For me, it wasn't just about having the right riding skills, it was also about having the right spirit," judge and Oscar-winning actor Adrien Brody told Motorcycle.com. "After all, this is what drives each of us and what creates the enthusiasm that is so important to all motorbike riders."

The first leg of the journey begins in early 2013, when each of the riders will set off on their portion of the tour through Asia, Africa, New Zealand, Europe and the U.S.